Castle Classics · Mozart, Haydn & Elgar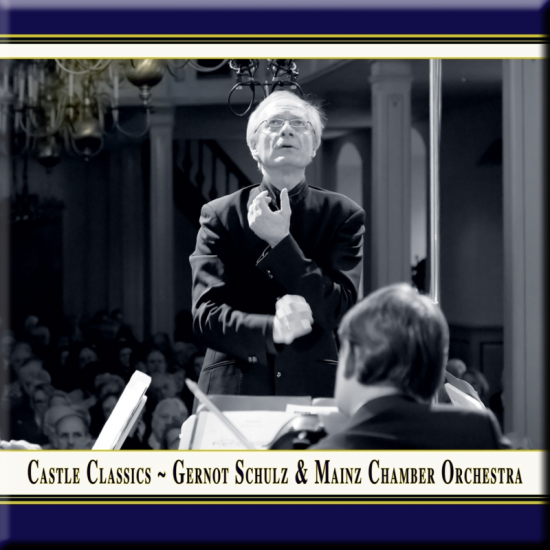 Castle Classics
Mozart, Haydn & Elgar
Wolfgang Amadeus Mozart (1756-1791):
Symphony No. 29 in A Major, K.201
& Concerto for French Horn & Orchestra No. 2
Joseph Haydn (1732-1809):
Cassatio for Four French Horns & String Orchestra
in D Major, Hob. deest
Edward Elgar (1857-1934):
Serenade for String Orchestra in E Minor, Opus 20
Mainz Chamber Orchestra conducted by Gernot Schulz.
Soloists (French Horn): Sibylle Mahni, Benedicte Elnes, Jannik Neß & Moritz Haas.
A concert recording from Bad Homburg Castle in Germany
HD Recording · DDD · Duration: c. 60 Minutes

Streaming, Lossless- & High-Definition-Downloads via
Work(s) & Performance
T
he Church of the Bad Homburg Castle, dating back to the 17th century, is one of the most beautiful and intimate concert halls in Europe. Long forgotten, the turmoil of the 20th century passed it by, and it remained untouched until the 1980s. Then, upon the initiative of members of the local Rotary Club, the church and its majestic Buergy organ were restored true to the original and with a loving attention to detail. Today the Castle Church sparkles with a renewed radiance that is set off perfectly by the concert series "Castle Classics".
View more releases with works by
Performer(s)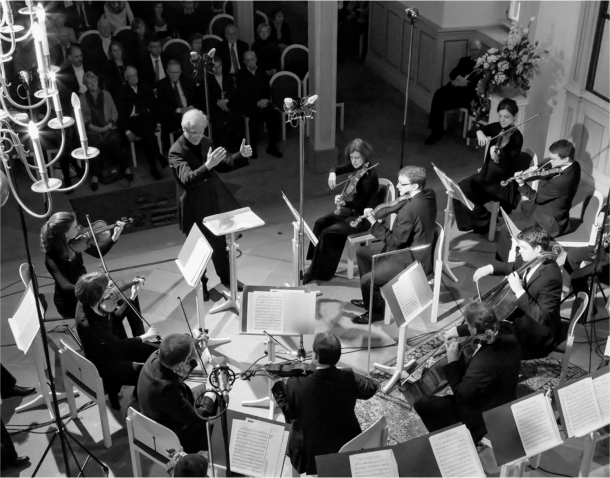 T
he Mainz Chamber Orchestra had been founded in 1955 by Prof. Dr. Günter Kehr, who was leading it until his death in 1989. About 40 to 50 concerts were given all over the world every year and 130 LPs and CDs were produced, including numerous broadcast recordings. The musical performance of Günther Kehr had a great influence and set standards for his period. Feeling deeply obliged to this tradition, every musician within the orchestra was entrusted with challenging musical tasks, leading to the assemblage of many adepted soloists. Often, the interpretation of a piece is developed by the musicians themselves under the direction of a concertmaster. The musicians are generally not full-time members of a symphony orchestra, but rather members of chamber music associations. This allows the rehearsals being focused on working on specific chamber musically oriented problems. In doing so, a special kind of colleagueship accrued that shows itself in spontaneous, joyful musical interplay. About 20 CDs recorded in the last few years testify the orchestra's exceptional standard. After Günther Kehr's death violinist Volker Müller honorarily resumed the musical conductorship of the Mainz Chamber Orchestra. Together with his wife, the flutist Renate Kehr, he preserves the artistic heritage of the orchestra and guides it towards new developments.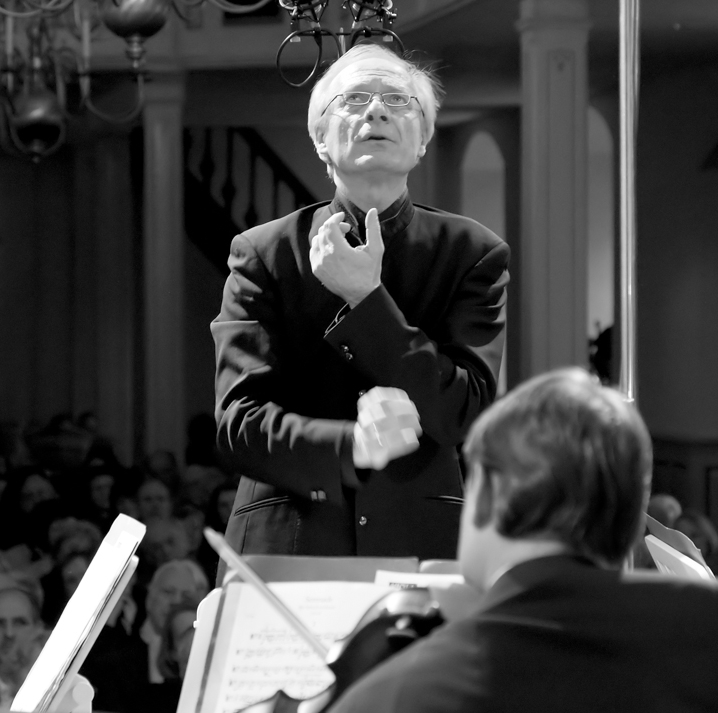 P
rof. Gernot Schulz, internationally acclaimed conductor and, in the past, assistant to Leonard Bernstein and Sir Georg Solti, began his musical career as a percussionist with the Berliner Philharmoniker, as lecturer at the Herbert-von-Karajan-Akademie Berlin and as professor of music in Hamburg. Later, he studied conducting in Leipzig and was a prize-winner of the Competition of the German Conservatories. Following a spectacular debut with the Münchner Rundfunkorchester in 1996, Gernot Schulz has consistently appeared in subsequent seasons with esteemed orchestras throughout Europe, America and Asia. He conducted renowned orchestras such as the Chamber Orchestra of the Berliner Philharmoniker, the Orchester der Komischen Oper Berlin, the Staatskapelle Weimar, the Brandenburgisches Staatsorchester Frankfurt/Oder, the Budapest Philharmonics, the Czech National Orchestra, the National Orchestra of Taiwan. Additionally, Gernot Schulz has performed at festivals such as the Berliner Festwochen (premiering works by Hans Werner Henze, Günter Bialas, Wilhelm Killmayer and Michael Hamel), the Frankfurter Feste, the Schleswig-Holstein-Musik-Festival and the Kontrapunkte-Festival Salzburg. CD recordings were released on Sony Classical, Wergo and Ars Produktion.
Series & Edition
P
ublishing Authentic Classical Concerts entails for us capturing and recording outstanding performances and concerts for posterity. The performers, audience, opus and room enter into an intimate dialogue that in its form and expression, its atmosphere, is unique and unrepeatable. It is our aim, the philosophy of our house, to enable the listener to acutely experience every facet of this symbiosis, the intensity of the performance, so we record the concerts in direct 2-Track Stereo digital HD. The results are unparalleled interpretations of musical and literary works, simply - audiophile snapshots of permanent value. Flourishing culture, enthralling the audience and last but not least also you the listener, are the values we endeavor to document in our editions and series.
Music that is new, pieces worth listening to and well worth conserving, little treasures from the traditional and the avantgarde - music that is unimaginable anywhere else but in the hotbed of Europe - we capture these in our Castle Concerts Series of recordings in their original settings in cooperation with Volker Northoff.
Andreas Otto Grimminger & Josef-Stefan Kindler, K&K Verlagsanstalt
Works, Movements & Tracklist
Edward Elgar (1857-1934):
Serenade for String Orchestra in E Minor, Opus 20
1. I: Allegro piacevole ~ 2. II: Larghetto
3. III: Allegretto
Wolfgang Amadeus Mozart (1756-1791):
Concerto for French Horn & Orchestra No. 2 in E-flat Major, K. 417
Soloist: Sibylle Mahni ~ French Horn
4. I: Allegro maestoso ~ 5. II: Andante
6. III: Rondo
Joseph Haydn (1732-1809):
Cassatio for four French Horns & String Orchestra in D Major, Hob. deest
Soloists: Sibylle Mahni, Benedicte Elnes, Jannik Neß & Moritz Haas ~ French Horn
7. I: Allegro moderato ~ 8. II: Menuet
9. III: Adagio ~ 10. IV: Menuet
11. V: Finale - Allegro
Wolfgang Amadeus Mozart (1756-1791):
Symphony No. 29 in A Major, K. 201
12. I: Allegro moderato ~ 13. II: Andante
14. III: Menuetto ~ 15. IV: Allegro con spirito





A concert recording from Bad Homburg Castle (Germany), April 7th 2013, recorded, released & created by Andreas Otto Grimminger & Josef-Stefan Kindler in cooperation with Volker Northoff.
Sound & Recording Engineer: Andreas Otto Grimminger.
Mastering: Andreas Otto Grimminger & Josef-Stefan Kindler.
Photography: Josef-Stefan Kindler.
Artwork & Coverdesign: Josef-Stefan Kindler.