Passione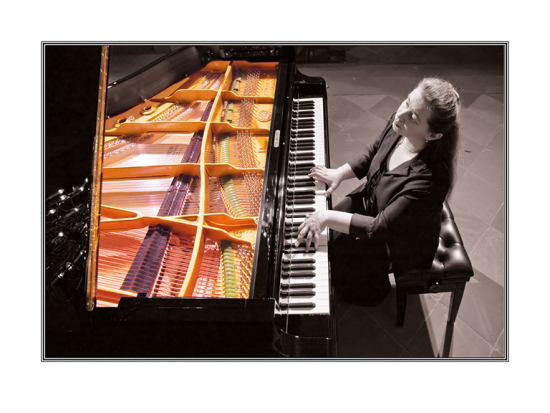 Passione
Art created by
Josef-Stefan Kindler




Art Prints in individual customized editions
Quality & Paper:
Prints on Ilford Professional heavyweight silken-matt paper, 290 gsm, lightfast
Versions:
All images can be ordered with or without the specific borders
If you wish to purchase without border, please write a comment in the Shopping-Cart-System
Prices & Costs:
All prices including shipping costs
Delivery:
During 2-3 weeks
Special Wishes:
Please contact us for special wishes or help.
You can write us at any time under "Contact Us" via the navigation bar.
More Details
T
he path that Lilya Zilberstein has taken reflects the triumph of a calling, a dogged determination to overcome obstacles that would have shattered any other talent: the eighties in the USSR were times of overt, yet unofficial antisemitism. Despite all the first prizes won at important Russian and Soviet competitions - at the Russian Federation's 1985 competition, for example - she was told in no uncertain terms that she was persona non grata at the Moscow Conservatory because of her Jewish origins. Permission to take part in international piano competitions was withheld, in particular when it came to the International Tchaikovsky Competition.
The one exception to this in 1987 was more of a coincidence than anything else: she was given permission to take part in the Busoni Competition in Bozen. Her triumph there was a sensation, and five years passed before a first prize was ever awarded in Bozen again. Her debut in the West marked the turning point of Lilya's career, and experts in the music branch pricked up their ears. By August 1998, she had received the International Accademia Musicale Chigiana Prize in Siena. Holders of this award include Gidon Kremer, Anne-Sophie Mutter and Krystian Zimerman. Fast on the heels of this honour came extended tournées in numerous countries throughout Western Europe as well as an exclusive contract with Deutsche Grammophon.
Since that time, Lilya Zilberstein has been a presence on the great stages of the world. In 1991, she debuted at the Berlin Philharmonic with Claudio Abbado conducting, which laid the foundations for repeated collaboration between them. She has participated in concerts with the most renowned international orchestras, including the Chicago Symphony Orchestra, the Moscow Tchaikovsky Symphony Orchestra, the London Symphony and Royal Philharmonic Orchestras, the orchestra of Milan's La Scala and many, many more. Besides Claudio Abbado, she has worked with conductors such as Paavo Berglund, Semyon Bychkov, Christoph Eschenbach, Vladimir Fedossejew, Dmitrij Kitajenko, James Levine, Marcello Viotti, Hugh Wolff and Michael Tilson Thomast.
Deutsche Grammophon and Lilya Zilberstein have produced legendary CDs. A particular highlight is the benchmark recording of the Rachmaninov Piano Concertos with Claudio Abbado and the Berlin Philharmonic. And in addition to her career as a soloist, Lilya Zilberstein is a passionate performer of chamber music and works with the great soloists of the day. The piano duo of Martha Argerich and Lilya Zilberstein has been highly acclaimed all over the world for many a year now. Over and above this, she regularly goes on world tournées with violinist Maxim Vengerow. The international press agrees on one thing: there is no superlative too good for her! Lilya Zilberstein belongs firmly in the circle of those magical sorcerers of sound on the piano.