Mozart: Don Giovanni · Opera without Voices
Wolfgang Amadeus Mozart (1756-1791)
Don Giovanni
Opera without Voices
Instrumental Arrangements of Highlights
from Mozart's Opera "Don Giovanni", K. 527,
performed by the Arte Ensemble
A live recording from the layrefectory of the German
UNESCO World Heritage Site Maulbronn Monastery
HD Recording · DDD · c. 28 Minutes · 9 Tracks


Available for streaming, as lossless download and high-definition download via
Performer(s)
T
he Arte Ensemble, founded in 1993 from soloists of the NDR Radiophilharmonie, is playing in various sections from quintet to nonett under the artistically guide of the famous concert-master Kathrin Rabus - musically partner by example of Gideon Kremer or Andras Schiff and violinplayer in the Kandinsky Streichtrio. Some of the musicians also are members of other wellknown chambermusic groups like the Ma`alot Bläserquintett or Klavierduo "Reine Elisabeth" (Wolfgang Manz - Rolf Plagge). The Arte Ensemble is a very welcome guest in the big concert-halls and festivals and refers to a lot of recordings of german broadcast transmitters like NDR Hamburg, BR München, HR Frankfurt and Deutschland Radio Berlin. The Arte Ensemble has published two CDs in co-operation with NDR and the labels CPO and NOMOS. Special attention by the press and the audience was given to the songs after compositions of Giuseppe Verdi: Verdiana - Composizioni da camera.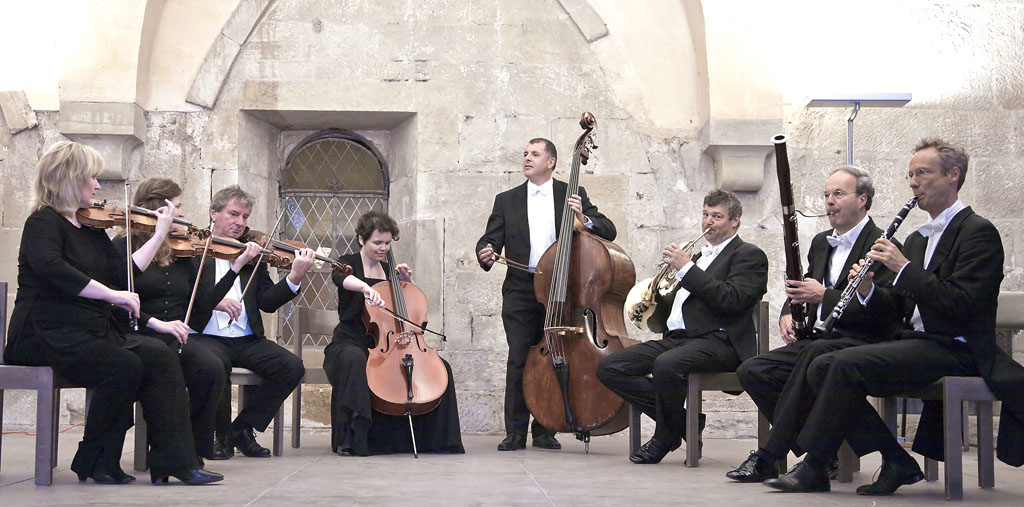 Kathrin Rabus & Birte Paeplow ~ Violin
Christian Pohl ~ Viola · Ute Sommer ~ Violon Cello
Albert Sommer ~ Double Bass · Guido Schaefer ~ Clarinet
Theodor Wiemes ~ French Horn · Uwe Grothaus ~ Bassoon
Series & Edition
P
ublishing Authentic Classical Concerts entails for us capturing and recording outstanding performances and concerts for posterity. The performers, audience, opus and room enter into an intimate dialogue that in its form and expression, its atmosphere, is unique and unrepeatable. It is our aim, the philosophy of our house, to enable the listener to acutely experience every facet of this symbiosis, the intensity of the performance, so we record the concerts in direct 2-Track Stereo digital HD. The results are unparalleled interpretations of musical and literary works, simply - audiophile snapshots of permanent value. Flourishing culture, enthralling the audience and last but not least also you the listener, are the values we endeavor to document in our editions and series.
The concerts at the UNESCO World Heritage Maulbronn Monastery supply the ideal conditions for our aspirations. It is, above all, the atmosphere of the romantic, candle-lit arches, the magic of the monastery in its unadulterated sublime presence and tranquillity that impresses itself upon the performers and audience of these concerts. Renowned soloists and ensembles from the international arena repeatedly welcome the opportunity to appear here - enjoying the unparalleled acoustic and architectural beauty of this World Heritage Site, providing exquisite performances of secular and sacred music, documented by us in our Maulbronn Monastery Edition.
Andreas Otto Grimminger & Josef-Stefan Kindler, K&K Verlagsanstalt
Works, Movements & Tracklist
1. Overture [6:07]
2. Notte e giorno faticar (Leporello) [1:23]
3. Madamina (Leporello) [3:22]
4. Là ci darem la mano [2:52]
5. Dalla sua pace (Don Ottavio) [3:52]
6. Fin ch`an dal vino [1:27]
7. Vedrai, carino [2:57]
8. Mi tradi quell `alma ingrata [2:42]
9. Don Giovanni!
A cenar teco / Da qual tremore [3:54]
Recorded to 'Direct 2-Track Stereo Digital HD' in a concert at the layrefectory of the German UNESCO World Heritage Site Maulbronn Monastery, recorded, released and created by Andreas Otto Grimminger & Josef-Stefan Kindler in cooperation with Jürgen Budday, Klosterkonzerte Maulbronn ('Maulbronn Monastery Concerts').
Concert Date: June 6, 2009
Sound & Recording Engineer: Andreas Otto Grimminger
Mastering & Production: Andreas Otto Grimminger & Josef-Stefan Kindler
Photography, Artwork & Coverdesign: Josef-Stefan Kindler