Beethoven: Piano Trio No. 6 in E-Flat Major, Op. 70, No. 2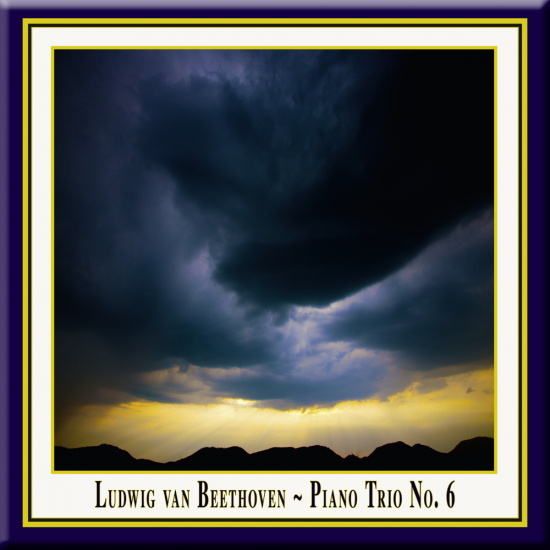 Ludwig van Beethoven (1770-1827):
Piano Trio No. 6
in E-Flat Major, Op. 70, No. 2
Performed by the Trio Fontenay:
Michael Mücke (Violin)
Jens Peter Maintz (Cello)
Wolf Harden (Piano)
A live recording from the German UNESCO World Heritage Site Maulbronn Monastery
Digital Album · DDD · 4 Tracks · c. 32 Minutes


Available for streaming, as lossless download and high-definition download via
Work(s) & Performance

C
arl Czerny, composer and student of Beethoven, says about the Piano Trio in E-Flat Major, Op. 70, No. 2: "this trio is no less great or original than its successor (Piano Trio in D Major, Op. 70, No. 1), but it is of a very different, less serious character." The trio in e-flat major was composed during the summer of 1808 immediately after the Sixth Symphony, and applies foreseen traits to Romanticism. Beethoven expands his realm of expression here in two somewhat converse directions: both in a seemingly romantically tonal colourfulness, and towards the inclusion of classic style elements by means of a stricter introduction.
In this live recording Michael Mücke plays a violin from Gaspare Lorenzini (Piacenza 1780) and Jens Peter Maintz a Violoncello from Vincenzo Rugeri (1696).
View more releases with works by
Performer(s)
T
he sweeping impulsivity and musical gauge of their interpretations have led these "three divine sons" (Süddeutsche Zeitung) to where they are today. Undoubtedly, Trio Fontenay is currently the most renowned German piano trio. A fast-paced career developed in the mid-1980s, during the course of which the "young, wild ones" were continual guests at Europe's larger festivals. In 1986 they had their American debut. Since then, one or two large annual tours take them through the USA and Canada, within the scope of which the trio regularly performs in major metropolitan cities such as New York, Los Angeles, Chicago, Montreal and Toronto. The ensemble's comprehensive repertoire is a cross-section of all piano trio literature, and with its interpretations impressed with intensity and faithfulness, Trio Fontenay has always aroused great acclamation from both its public and critics alike. For their complete recording of the Beethoven Trios, Trio Fontenay was award the annual prize by Deutsche Schallplattenkritik, as well as the French "Diapason d'Or". In Paris, the trio was appointed Châtelet Theatre's resident trio.
Series & Edition
P
ublishing Authentic Classical Concerts entails for us capturing and recording outstanding performances and concerts for posterity. The performers, audience, opus and room enter into an intimate dialogue that in its form and expression, its atmosphere, is unique and unrepeatable. It is our aim, the philosophy of our house, to enable the listener to acutely experience every facet of this symbiosis, the intensity of the performance, so we record the concerts in direct 2-Track Stereo digital HD. The results are unparalleled interpretations of musical and literary works, simply - audiophile snapshots of permanent value. Flourishing culture, enthralling the audience and last but not least also you the listener, are the values we endeavor to document in our editions and series.
The concerts at the UNESCO World Heritage Maulbronn Monastery supply the ideal conditions for our aspirations. It is, above all, the atmosphere of the romantic, candle-lit arches, the magic of the monastery in its unadulterated sublime presence and tranquillity that impresses itself upon the performers and audience of these concerts. Renowned soloists and ensembles from the international arena repeatedly welcome the opportunity to appear here - enjoying the unparalleled acoustic and architectural beauty of this World Heritage Site, providing exquisite performances of secular and sacred music, documented by us in our Maulbronn Monastery Edition.
Andreas Otto Grimminger & Josef-Stefan Kindler, K&K Verlagsanstalt