Mozart: Piano Sonata No. 12 in F Major, K. 332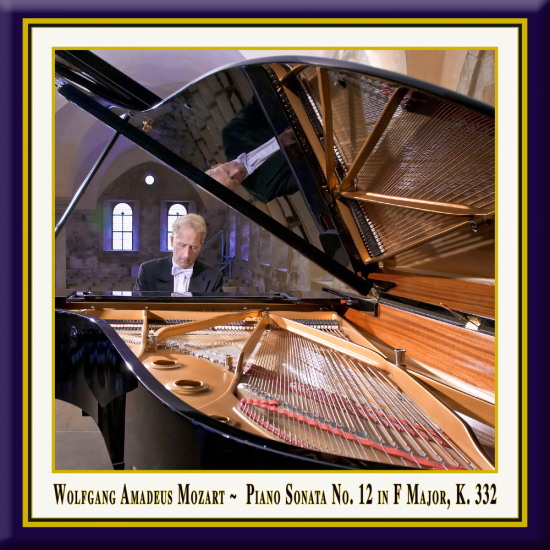 EUR 2,85
Wolfgang Amadeus Mozart (1756-1791):
Piano Sonata No. 12
in F Major, K. 332
Performed by Rolf Plagge (Piano)
A live recording from the German UNESCO World Heritage Site Maulbronn Monastery
Concert Grand Piano: C-227 by Steinway & Sons
DDD · Duration: 17 Min. 30 Sec.
Digital Music Album [here: MP3/320kBit/sec.] · 3 Tracks
1 x
∅ 6:18
€ 0.95
MP3 · 320kBit/sec.
by Wolfgang Amadeus Mozart, performed by Rolf Plagge
x
1 x
∅ 4:25
€ 0.95
MP3 · 320kBit/sec.
by Wolfgang Amadeus Mozart, performed by Rolf Plagge
x
1 x
∅ 6:47
€ 0.95
MP3 · 320kBit/sec.
by Wolfgang Amadeus Mozart, performed by Rolf Plagge
x


Streaming, Lossless- & High-Definition-Downloads via
Work(s) & Performance

T
he Piano Sonata No. 12 in F major by Wolfgang Amadeus Mozart, K. 332/300k, was written at the same time as the Piano Sonata, K. 330, and Piano Sonata, K. 331 ("Alla turca"), Mozart numbering them as a set from one to three. They were once believed to have been written in the late 1770s in Paris, but it is now thought more likely that they date from 1783, by which time Mozart had moved to Vienna. Some believe that Mozart wrote this and the other sonatas during a summer 1783 visit to Salzburg made for the purpose of introducing his wife, Constanze to his father, Leopold. All three sonatas were published in Vienna in 1784... [From Wikipedia, the free encyclopedia]
View more releases with works by
Performer(s)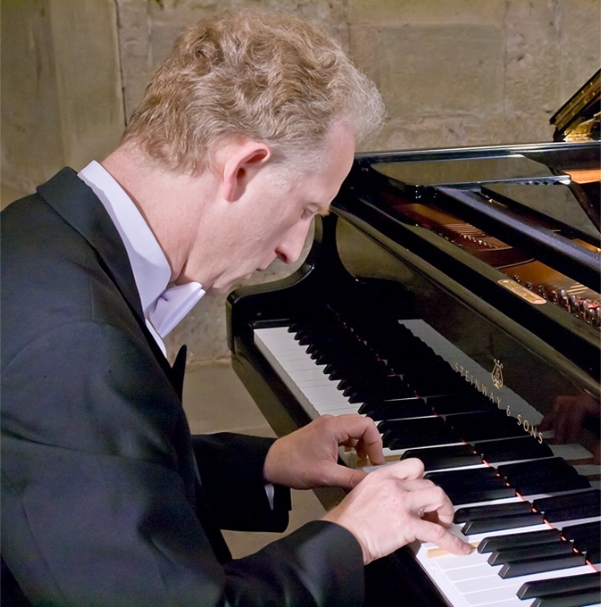 I
n July 1990 Rolf Plagge became the first German pianist ever to win a prize in the prestigious Moscow Tchaikovsky Competition. He had already been awarded numerous prizes in national and international competitions in Vienna, Bratislava, Montevideo, Bonn, and several times in Italy. In 1987 he won the 3rd prize in the esteemed 'Reine Elisabeth' Competition in Brussels and has since been a frequent performer in Belgium. Rolf Plagge is regularly performing in many European countries, including Russia, as well as in the US and Latin America, Japan, South Korea, South East Asia, Australia. Apart from giving solo performances with various German orchestras (State Symphony Orchestra of Thuringia, Bochum Symphonic Orchestra, Bremen Philharmonic, Munich Chamber Orchestra, Rheinische Philharmonie, Staatsphilharmonie Rheinland-Pfalz etc.) as well as with international orchestras, including Baltic Philharmonic, Filharmonia Narodowa Warschau, Orchestre National de France; Polish Chamber Philharmonic, Salt Lake City Symphony Orchestra, Israel Sinfonietta, Orchstre National de Belgique etc.
Plagge was born in 1959 in Westerstede, North Germany, where he received his first piano lessons at home. By 1969 he was studying at the Bremen Conservatory with Prof. Peter-Jürgen Hofer. After winning several prizes and scholarships he continued his studies with various famous teachers: in Freiburg with Vitaly Margulis, in Vienna with Paul Badura-Skoda, at the Juilliard School in New York with Gyorgy Sandor and finally in Hannover with Karlheinz Kämmerling. Since 1991 he is holding a teaching position as professor at the University of Music "Mozarteum" in Salzburg, also giving piano masterclasses in Europe and many other countries, including US, South America, Japan, Korea, Australia.
Series & Edition
P
ublishing Authentic Classical Concerts entails for us capturing and recording outstanding performances and concerts for posterity. The performers, audience, opus and room enter into an intimate dialogue that in its form and expression, its atmosphere, is unique and unrepeatable. It is our aim, the philosophy of our house, to enable the listener to acutely experience every facet of this symbiosis, the intensity of the performance, so we record the concerts in direct 2-Track Stereo digital HD. The results are unparalleled interpretations of musical and literary works, simply - audiophile snapshots of permanent value. Flourishing culture, enthralling the audience and last but not least also you the listener, are the values we endeavor to document in our editions and series.
The concerts at the UNESCO World Heritage Maulbronn Monastery supply the ideal conditions for our aspirations. It is, above all, the atmosphere of the romantic, candle-lit arches, the magic of the monastery in its unadulterated sublime presence and tranquillity that impresses itself upon the performers and audience of these concerts. Renowned soloists and ensembles from the international arena repeatedly welcome the opportunity to appear here - enjoying the unparalleled acoustic and architectural beauty of this World Heritage Site, providing exquisite performances of secular and sacred music, documented by us in our Maulbronn Monastery Edition.
The concert grand piano is incontestably the king of instruments. We could now wax lyrical about its incomparable dynamics and go into its ability to go from the tenderest of sounds in a soft minor key to the magnificent power of a fortissimo, or I could rhapsodise about its impressive size and elegance. But what makes this instrument really fascinating is its individuality, since each one is unique in itself - created by a master. A concert grand has a life all of its own that a virtuoso can really "get into" and hence bring the work of the composer to life. In our Grand Piano Masters Series, we get into the character and soul of the concert grand piano and experience, during the performance itself, the dialogue between the instrument, the virtuoso and the performance space.
Andreas Otto Grimminger & Josef-Stefan Kindler, K&K Verlagsanstalt