Piano Variations by Mendelssohn, Mozart & Vorraber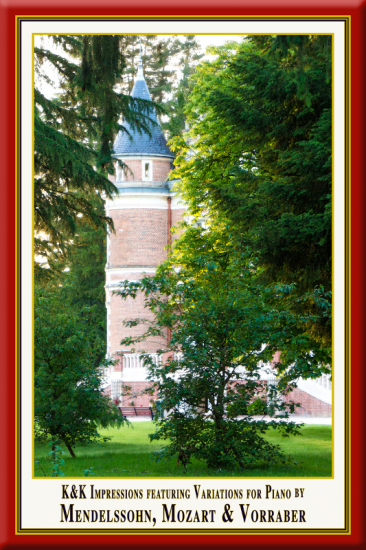 K&K Impressions featuring
Variations for Piano
by Mendelssohn, Mozart & Vorraber
Visual art impressions by Josef-Stefan Kindler
featuring works for piano solo
by Felix Mendelssohn Bartholdy (1809-1847),
Wolfgang Amadeus Mozart (1756-1791)
and Franz Vorraber (*1962),
performed by Franz Vorraber (Piano)

5 Chapters · Runtime: c. 45 Minutes
Chapters & Tracklist
Franz Vorraber (*1962):
1. Poem, Op. 32 No. 2 [2:46]
Franz Vorraber (*1962):
2. Get Nine, Op. 32 No. 3 [9:20]
Felix Mendelssohn (1809-1847):
3. Variations Sérieuses in D Minor [11:56]
Op. 54, MWV U156
Wolfgang Amadeus Mozart (1756-1791):
4. Twelve Variations on "Ah vous dirai-je, Maman" * [12:39]
in C Major, K. 265/300e
* Also known as the melody of "Tomorrow Santa's coming" and "Twinkle, Twinkle Little Star"
Wolfgang Amadeus Mozart (1756-1791):
5. Five Variations on "Salve tu Domine" [8:02]
in F Major, K. 398/416e
Josef-Stefan Kindler ~ Images, Art, Direction, Movie & Music Producer
Andreas Otto Grimminger ~ Sound Engineer & Music Producer
View more releases with works by
Music Performer(s)
F
ranz Vorraber is one of the internationally renowned interpreters of Schumann. He repeatedly performed the complete solo oeuvre in cycles of twelve concertos and was published it in a thirteen-part CD recording at Thorofon, receiving numerous international awards and honors. Being born in Graz, his studies have been shaped by the First Viennese School and the German School, and he graduated with a soloist diploma and unanimous decoration. Franz Vorraber was invited as soloist to internationally famous festivals as the Viennese Musiksommer, the piano festival Ruhr, the music festival Schleswig Holstein, the Mozartfest Würzburg, the Mendelson fest in Leipzig, the Klosterfestspiele Maulbronn, the Musiksommer of Chorin, the European Weeks of Passau, the Frankfurter Feste, the festival Santander, the Schubertiade, the Rheingau music festival, the Hohenloher Kultursommer, the Bebersee festival et cetera. He worked with conductors like Dennis Russell Davies, Fabio Luisi, Alun Francis, Gabriel Feltz, Mar Tardue or Marcus Bosch. His repertoire of piano concerts includes 50 different concerts, many of them have been have been released on CD. His own works as a composer have been increasingly performed lately. There have been many premieres of pieces of chamber music at the Mendelson Fest at the Gewandhaus or at the Schumann Fest in Bonn in cooperation with the blowers of the Staatskapelle Berlin and musicians of the Gewandhaus Leipzig. A great success was the premiere of his first piano concerto at the Klosterkonzerte Maulbronn. Some works of piano were published by Thorofon and by K&K Verlagsanstalt, i. a. 'Sentences of Love' in cooperation with the poet and writer Peter Härtling.
Series & Edition
The concert grand piano is incontestably the king of instruments. We could now wax lyrical about its incomparable dynamics and go into its ability to go from the tenderest of sounds in a soft minor key to the magnificent power of a fortissimo, or I could rhapsodise about its impressive size and elegance. But what makes this instrument really fascinating is its individuality, since each one is unique in itself - created by a master. A concert grand has a life all of its own that a virtuoso can really "get into" and hence bring the work of the composer to life. In our Grand Piano Masters Series, we get into the character and soul of the concert grand piano and experience, during the performance itself, the dialogue between the instrument, the virtuoso and the performance space.
Andreas Otto Grimminger & Josef-Stefan Kindler, K&K Verlagsanstalt