The Art of Conduction · Dvorak & Mozart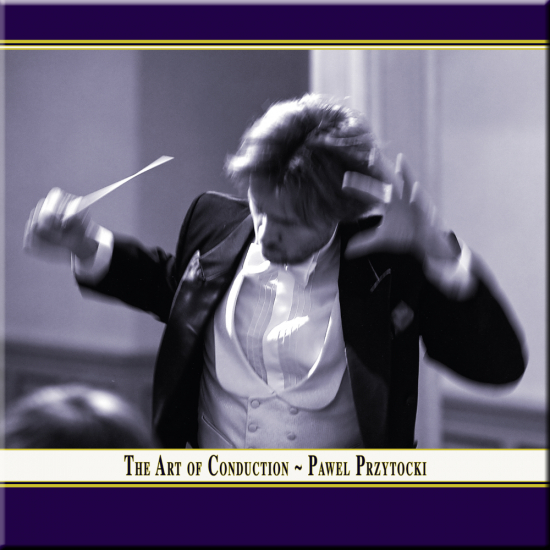 Dvorak & Mozart
The Art Of Conduction
Concerts conducted by Pawel Przytocki:

Wolfgang Amadeus Mozart:
Symphony No. 36 in C Major, K. 425 "Linz"
Orchesta: Schlesische Kammerphilharmonie Kattowitz
A concert at the church of Maulbronn Monastery 2002.

Antonín Dvorák:
Serenade for String Orchestra in E Major, Opus 22
Orchestra: Beethoven Academy Orchestra Krakau
A concert at the Bad Homburg Castle 2007.

HD Recording · DDD · c. 58 Minutes

Streaming, Lossless- & High-Definition-Downloads via
Work(s) & Performance
T
he characteristic that most distinguishes the great conductors of our time is the courage to identify with the work: the adventure of comprehending and interpreting. The personal perception and expression of the composition, the confrontation with the composers markings and the exploitation of the orchestra's character and virtuosity, all lead to a vital diversity in performances of a work. In our series "Art of Conduction" we present you conductors to whom a charm is attached, a magic personality that enables them to breathe new life into the works of the Great Masters.
Although five years lie between the recordings of the two works and place, orchestra and composer can not be placed in the same context, the signature, the flowing expressive tension, the accurate dynamics that Pavel Przytocki demands from the work and from the orchestra are clearly recognizable. In our opinion, he counts as one of the most innovative conductors of our time.
Josef-Stefan Kindler, Publisher
View more releases with works by
Performer(s)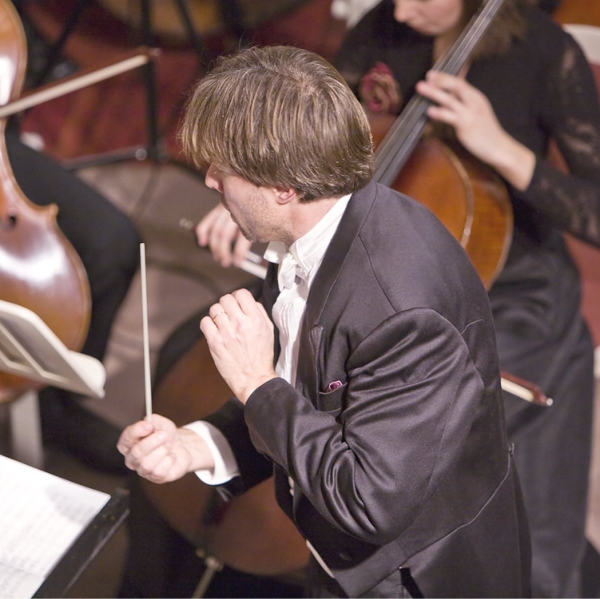 P
awel Przytocki is one of the most talented and exciting young Polish conductors. He studied at the Academy of Music in Kraków, where he graduated with honors from the Faculty of Conducting (1985) under Professor Jerzy Katlewicz. He perfected his skills at the Bartok International Seminar with Peter Eötvös and with the Master Conducting Course at the Oregon Bach Festival in Eugene with Helmuth Rilling. From 1983 to 1987, Przytocki collaborated with the Krakow Philharmonic and, since 1987, with the Grand Opera Theatre in Lodz. From 1988 to 1991, he worked as the Conductor and Music Director of the Baltic Philharmonic Orchestra in Gdansk. In May 1990, he made his debut with the National Philharmonic in Warsaw. Since 1995, he has worked with the Orchestra Sinfonia Varsovia and, from 1995 to 1997, was Music Director of the Artur Rubinstein Philharmonic Orchestra in Lódz. Przytocki is a regular guest conductor with orchestras throughout Poland as well as with the Budapest Concert Orchestra, Orchestra Sinfonica de Xalapa in Mexico, Real Filharmonia de Galicia in Spain, Capella Istropolitana in Bratislava, Philharmonisches Staatsorchester Halle, Neue Philharmonie Westfalen, Bilkent Symphony Orchestra Ankara, Everett Symphony Orchestra in the United States and the Janacek Philharmonic Orchestra Ostrava. His guest performances and concert tours have led him throughout Europe.
Pawel Przytocki has participated in numerous international music festivals, including the Athens Festival, 1987, the Musikfest Stuttgart, 1988, the Flanders Festival, 1989, La Chaise-Dieu Festival, 1996, the Kissinger Sommer, 1998, the Bratislava Music Festival, 1999, the Prague Spring, 2001 and the Wratislavia Cantans, 2005. Since 2005, Przytocki has been the conductor for the National Opera in Warsaw. During the 2005/2006 and the 2006/2007 season at the National Opera, he conducted Aram Khachaturian's ballet, Spartacus (premiere -November 2005), Tchaikovsky's opera, "Oniegin", Verdi's, "La Traviata", Puccini's "La Boheme" and the ballet, "Oniegin" with choreography by John Cranko (premiere- April 2007). He has made archival recordings for Polish Radio and CDs for DUX, Aurophon and Point Classic. His recording of Rachmaninoff`s First Symphony, in 1991, has been recognized by the American "La Folia Music Review Magazine" as very special.The magazine labeled it one of the world`s five best recordings and compared it favorably to those of Carlos Kleiber and Svjatoslav Richter.
Series & Edition
P
ublishing Authentic Classical Concerts entails for us capturing and recording outstanding performances and concerts for posterity. The performers, audience, opus and room enter into an intimate dialogue that in its form and expression, its atmosphere, is unique and unrepeatable. It is our aim, the philosophy of our house, to enable the listener to acutely experience every facet of this symbiosis, the intensity of the performance, so we record the concerts in direct 2-Track Stereo digital HD. The results are unparalleled interpretations of musical and literary works, simply - audiophile snapshots of permanent value. Flourishing culture, enthralling the audience and last but not least also you the listener, are the values we endeavor to document in our editions and series.
The concerts at the UNESCO World Heritage Maulbronn Monastery supply the ideal conditions for our aspirations. It is, above all, the atmosphere of the romantic, candle-lit arches, the magic of the monastery in its unadulterated sublime presence and tranquillity that impresses itself upon the performers and audience of these concerts. Renowned soloists and ensembles from the international arena repeatedly welcome the opportunity to appear here - enjoying the unparalleled acoustic and architectural beauty of this World Heritage Site, providing exquisite performances of secular and sacred music, documented by us in our Maulbronn Monastery Edition.
Music that is new, pieces worth listening to and well worth conserving, little treasures from the traditional and the avantgarde - music that is unimaginable anywhere else but in the hotbed of Europe - we capture these in our Castle Concerts Series of recordings in their original settings in cooperation with Volker Northoff.
Andreas Otto Grimminger & Josef-Stefan Kindler, K&K Verlagsanstalt
Works, Movements & Tracklist
01. Introduction (Concert Start)

Wolfgang Amadeus Mozart (1756-1791):
Symphony No. 36
in C Major, K. 425 "Linz"
02. I. Adagio - Allegro spiritoso
03. II. Andante
04. III. Menuetto
05. IV. Finale (Presto)

A concert with the Schlesische Kammerphilharmonie Kattowitz at the basilica of Maulbronn Monastery (Germany), September 15th 2002.
Conductor: Pawel Przytocki.
Recording & Mastering Engineer: Andreas Otto Grimminger.
Central Idea, Photos and Artwork: Josef-Stefan Kindler.
Antonín Dvorák (1841-1904):
Serenade for String Orchestra
in E Major, Opus 22
06. I. Moderato
07. II. Tempo di valse
08. III. Scherzo: Vivace
09. IV. Larghetto
10. V. Finale: Allegro vivace

A concert with the Beethoven Akademie Orchestra Krakau at the Castle Bad Homburg (Germany), November 10th 2007.
Conductor: Pawel Przytocki.
Recording & Mastering Engineer: Andreas Otto Grimminger.
Central Idea, Photos and Artwork: Josef-Stefan Kindler.

Featured by Amazon Music
An excerpt of this release is featured in the playlist

BEST OF CLASSICAL MUSIC - Popular classical melodies interpreted by outstanding musicians and orchestras of our time


***** BEST RECORDING
This is the best recording I have found of Dvorak's String Serenade!

***** My favourite
Your version of Dvorak's String Serenade is my favourite... Gotta loveit...damn! This guy is so good!

***** An ideal introduction
An ideal introduction to one of Poland's most talented and exciting young conductors, whose work has been compared to that of Carlos Kleiber and Svjatoslav Richter.

***** Five Stars
PLEASED. ORDER.

BEST SELLER on Amazon.com
February 16, 2015: Dvorak's String Serenade Op.22 is BEST SELLER on Amazon.com:

Best Sellers Rank 1 in 'Symphonies / Romantic'

Best Sellers Rank 2 in 'Periods / Romantic'

Best Sellers Rank 3 in 'Symphonies / Classical'

***** Superb
I heard this piece (Dvorak's String Serenade) at a summer concert in Symphony Hall and was thoroughly enchanted by it. I downloaded it on to my ipod and it features regularly. It is a very melodic, uplifting, life-enhancing piece, superbly played.

A heady experience...
This beautifully-recorded CD brings together two fine works in what can only be termed as superb interpretations by Polish orchestras. K&K are an extremely enterprising German label who have given us some outstanding recordings in the choral, organ and piano and genre from such wonderful locations as centuries old monasteries so their new attention to orchestral music is very commendable indeed. Mozart's 'Linz' is one of those works were a carefully nuanced approach reaps considerable dividends as the great Peter Maag amply demonstrated. Przytocki is a consummate interpreter bringing a beautiful lift to the First movement and a busy energy to the Finale which are two miraculously charged movements. He is also in his element in the lovely Serenade for Strings by Dvořák which dances around quite ravishingly especially in the bucolic scherzo. This CD receives plaudits all around from me and it deserves a hearty recommendation. The presentation is beautiful with large photographs and the distinctive K&K colours provide for a heady experience which is reinforced by the interpretations.

***** FAV DVORAK
The 'Beethoven Akademie Orchester' does Dvorak justice with its excellent performance of his serenade. The 2nd and 3rd movements are definitely my favorites.