Don Cossack Choir Serge Jaroff · In dulci jubilo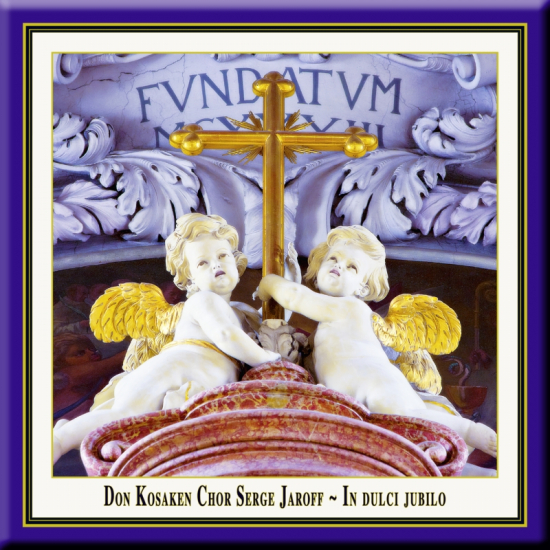 Don Cossack Choir Serge Jaroff
In dulci jubilo
A German-Russian Christmas Concert
at the Papal Basilica Minor
in Waldsassen (Germany),
performed by the legitimate successors
of the legendary Don Cossack Choir under Serge Jaroff
Conductor: Wanja Hlibka

HD Recording · DDD · c. 55 Minutes

Streaming, Lossless- & High-Definition-Downloads via
Work(s) & Performance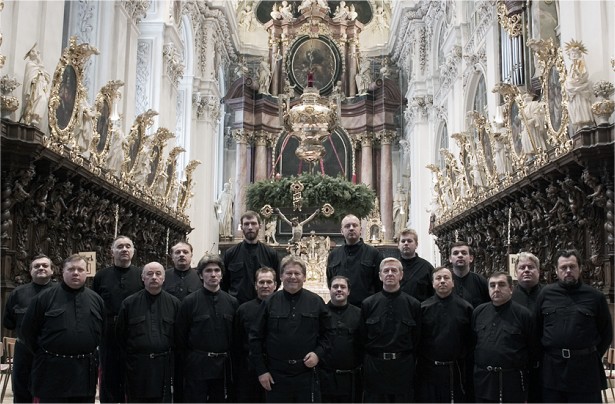 T
he Christmas concert, with Russian and German Christmas carols, was recorded in one of Germany's most beautiful Baroque churches. In addition to the well known sacred songs such as "In dulci jubilo" and Russian pieces like "Gospodie Pomuli", Wanja Hlibka delved deeply into the ways of both cultures. The a cappella version of "Es ist ein Ros entspungen", for example, enchanted the 1700 concert goers with the Kosaken's Russian melancholy..... a moving and grandiose experience. The church's interior, when one considers the basilica's dimensions, presents a challenge to a vocal ensemble. With a depth of over eighty meters, it requires the vocal power of the Russian operatic soloists comprising Wanja Hlibka's choir to elicit the necessary charisma from the vocally sophisticated arrangements and to captivate the audience in the way that they did. The atmosphere of the concert, dependent on the desired expression and dynamic, ranges from a peaceful, quiet, almost gentle honoring of the child in the manger to an enormous room-filling song of praise proclaiming the joy at the birth of the Redeemer.
T
he minster of Waldsassen, which you will encounter in this production, was established in 1133, with its present structures being built between 1685 and 1704. Prominent builders such as Georg Dientzenhofer and Abraham Leuthner created one of Bavaria's most remarkable Baroque churches. In 1803 the minster was given to the catholic community as a parish church. In 1969, the collegiate church was sanctified as a papal basilika minor. The church interior has a total length of 82 meters and the nave with basilican profile is attended with chapels and galleries. The organ has 7720 pipes and is the second largest in Germany. Prominent international conductors, such as Leonard Bernstein, Sir Colin Davies, Lorin Maazel, Yehudi Menuhin as well as many famous choirs, orchestras, soloists and organists made the Basilica Concerts an insider tip throughout Germany.
Performer(s)
T
he choir was founded in 1991 by Wanja Hlibka and George Tymczenko. Both were soloists in the world famous Don Cossacks Choir until its disbandment in 1979 and are thus well qualified to continue the tradition. Wanja Hlibka was their youngest soloist, from 1967 to 1979 and feels particularly obligated to the ensembles memory. He gathered together first class soloists from the Bolschoi Theatre in Moscow and the Kiev and Odessa Operas to form the successor choir, whose unique dynamic spectrum, from the transparency of a Gregorian chant to the vocal authority of an operatic chorus, is probably unmatched. The choir performs live and without the aid of amplification, even in such large venues as the Musikhalle in Hamburg, the Messehalle in Frankfurt or the Gewandhaus in Leipzig. The repertoire is the same as the former original choir's, with all scores being transcripts from Serge Jaroff's private music library, presently in the care of his son, Alexeij, in America.
W
anja Hlibka was born into a Russian-German family in 1948 in Petershausen, near Munich. He had his first private singing lesson at the age of 17 and was engaged only two years later by Serge Jaroff. During breaks from touring, he studied music at the Hamburg Conservatory and later singing with Professor Josef Metternich in Faldafing near Munich. Despite repeated offers from opera houses, he remained loyal to Serge Jaroff until the disbandment of the choir. He still exclusively dedicates his voice to Russian music. Wanja Hlibka sees, now as then, his most important task to be the furtherance of Serge Jaroff's art.
Series & Edition
P
ublishing Authentic Classical Concerts entails for us capturing and recording outstanding performances and concerts for posterity. The performers, audience, opus and room enter into an intimate dialogue that in its form and expression, its atmosphere, is unique and unrepeatable. It is our aim, the philosophy of our house, to enable the listener to acutely experience every facet of this symbiosis, the intensity of the performance, so we record the concerts in direct 2-Track Stereo digital HD. The results are unparalleled interpretations of musical and literary works, simply - audiophile snapshots of permanent value. Flourishing culture, enthralling the audience and last but not least also you the listener, are the values we endeavor to document in our editions and series.
Andreas Otto Grimminger & Josef-Stefan Kindler, K&K Verlagsanstalt
Works, Movements & Tracklist
1. Credo
Ich glaube an den Gott, den allmächtigen Vater, Schöpfer des Himmels und der Erde
2. Erster Psalm Davids
Alte Melodie aus dem Kievski Lavra Kloster
Solisten: I. Pavlenko, I. Jour
3. Tedeum Laudamus
Großer Gott wir loben Dich
Solist: I. Ponomarenko
4. Neue Freude ist über uns gekommen
Ukrainisches Weihnachtslied
Solist: O. Kulyeshov
5. Es ist ein Ros entsprungen
Deutsches Weihnachtslied
6. Christus ist geboren
Himmel und Erde sind von Herrlichkeit erfüllt,
der Retter der Menschheit ist geboren
Solisten: I. Pavlenko, O. Kulyeshov, S. Kulinich
7. Herr erbarme Dich unser
Die zwei Worte "Gospodie Pomilui" werden zu hohen kirchlichen Feiertagen 75 mal hintereinander gesungen. An der tiefsten und zugleich leisesten Stelle wird das Kreuz vom Geistlichen gesenkt. Sobald der Chor die höchste Stelle erreicht hat, wird das Kreuz wieder erhoben, wobei der Chor Fortissimo singt
8. Süßer die Glocken nie klingen
Deutsches Weihnachtslied
Solisten: S. Kulinich, S. Kryzhenko, I. Pavlenko
9. Gott sei mit uns
Solisten: A. Babykin, I. Pavlenko, V. Kalinkin
10. Russischer Weihnachtsgesang
Mit deiner Geburt bringst Du Freude
und Gerechtigkeit auf Erden
11. Die Glocken von Jerusalem
Russisches Weihnachtslied
Die Glocken von Jerusalem verkünden mit ihrem Geläute den Geburtstag des Herrn
Solisten: A. Babykin, V. Kalinkin, G. Vasko
12. In dulci jubilo
Weihnachtslied aus dem 14. Jahrhundert, in deutsch gesungen
13. In der Kirche
Bittgesang des Volkes um Frieden
und Gerechtigkeit für das russische Volk
14. Leise rieselt der Schnee
Deutsches Weihnachtslied
15. Adeste fideles
Oh kommet ihr Gläubigen
16. Ich bete an die Macht der Liebe
Deutsch-russisches Weihnachtslied, in deutsch gesungen

Bravo!
Bravo...Bravo...Bravo... Superbe. Merci.

HI-RES AUDIO
Awarded by Qobuz with the HI-RES AUDIO

***** Must buy
Absolutely beautiful. A must buy!