Music for Double Bass Ensemble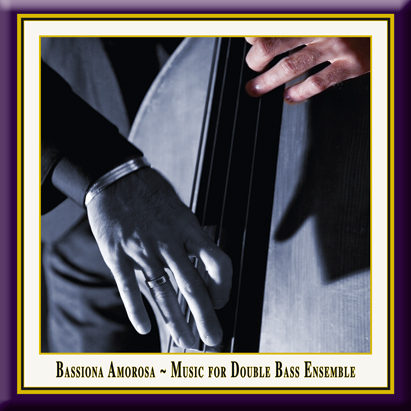 Bassiona Amorosa
Music for Double Bass Ensemble
The ensemble "Bassiona Amorosa" plays
a concert for double basses and piano
with the "Arioso" from the Harpsichord Concerto No. 5
by Johann Sebastian Bach,
the Hungarian Rhapsody No. 2 by Franz Liszt
and other compositions for 4-5 double basses

Double Basses:
Ljubinko Lazic, Sergej Konyakhin, Jan Jirmasek,
Giorgi Makhoshvili & Jang Kyoon Na
Piano: Lena Rachelis · Leader: Prof. Klaus Trumpf

A concert recording from the German
UNESCO World Heritage Site Maulbronn Monastery

HD Recording · DDD · c. 44 Minutes

Streaming, Lossless- & High-Definition-Downloads via
Performer(s)
A
s an International Contrabass Ensemble, they know how to excite and engage the audience in Europe and America in concerts, on CDs, on the radio, and on TV with never expected, varied, interesting programs, which include music from the early renaissance, baroque and classical period to arrangements of light music, and have done so since their foundation in 1996. The reason for this special attraction is the incredible sound refinement and the unusual virtuoso performance. The sense of this "special touch" bring these exceptional artists along from their home countries Slovakia, Russia, Czech Republic, White Russia, Yugoslavia, Georgia and Ukraine.
The formation consists of Master Class students of Prof. Trumpf, the leader of the Ensemble, at the State Conservatory of Music in Munich. Carthy musicianship, Slav melancholy with classical education - now formed through the same school - merge in unique symbiosis. Unbroken temperament and charm fascinate the audience. In its fourteen-years history, Bassiona Amorosa performed in nearly 500 concerts; seven CDs have been published so far; the ensemble was subject of three short films shot by the Bavarian Television Station and the WDR (West German Broadcasting Company). The third USA tour in June 2003 received a sensational reception by the audience. In Lucerne in September 2003, Bassiona Amorosa received from the European Culture Foundation Pro Europa the "European Quartet Prize 2003".
Series & Edition
P
ublishing Authentic Classical Concerts entails for us capturing and recording outstanding performances and concerts for posterity. The performers, audience, opus and room enter into an intimate dialogue that in its form and expression, its atmosphere, is unique and unrepeatable. It is our aim, the philosophy of our house, to enable the listener to acutely experience every facet of this symbiosis, the intensity of the performance, so we record the concerts in direct 2-Track Stereo digital HD. The results are unparalleled interpretations of musical and literary works, simply - audiophile snapshots of permanent value. Flourishing culture, enthralling the audience and last but not least also you the listener, are the values we endeavor to document in our editions and series.
The concerts at the UNESCO World Heritage Maulbronn Monastery supply the ideal conditions for our aspirations. It is, above all, the atmosphere of the romantic, candle-lit arches, the magic of the monastery in its unadulterated sublime presence and tranquillity that impresses itself upon the performers and audience of these concerts. Renowned soloists and ensembles from the international arena repeatedly welcome the opportunity to appear here - enjoying the unparalleled acoustic and architectural beauty of this World Heritage Site, providing exquisite performances of secular and sacred music, documented by us in our Maulbronn Monastery Edition.
Andreas Otto Grimminger & Josef-Stefan Kindler, K&K Verlagsanstalt

***** 5 stars out of 5 stars
Customer Votes on iTunes