Haydn · Grand duos pour deux guitares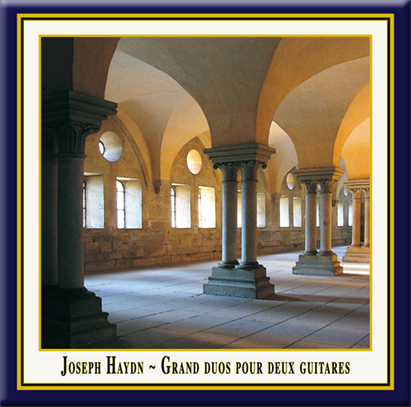 Joseph Haydn · François de Fossa:
Grand duos pour deux guitares
Four divertimentos for stringquartet by Joseph Haydn,
edited for guitar-duo by François de Fossa (1775-1849),
performed with historical guitares from the 19th century
by the ensemble Duo Sonare:
Jens Wagner & Thomas Offermann

A concert recording from the German
UNESCO World Heritage Site Maulbronn Monastery

HD Recording · DDD · c. 60 Minutes

Streaming, Lossless- & High-Definition-Downloads via
Work(s) & Performance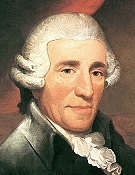 A
part from the title of the concert programme, Grand Duos pour deux Guitares, what's exceedingly attractive is the fact that a contemporary of Joseph Haydn adapted his string quartets for probably one of the most popular stringed instruments of our time – a version that was surely preformed during the composer's lifetime. In such, from the perspective of zeitgeist and its conjunct societal etiquette, the comprehension of both artists' musical conceptualisation must have converged rather closely. The awe-inspiring joy of playing and charming-elegant wit of the performance at the Maulbronn Monastery's Laymen Refectory show how modern chamber music can be interpreted – to the pleasure of the audience. An almost courtly atmosphere permeated the duo's concert. But let us allow the artists some quotes themselves, out of the performance, so to speak:
"Perhaps a few words about the guitars we play, because they're not the modern concert guitars that are so well known. They are replicas of instruments that were played during the classic era in Vienna, built by a certain Mr Staufer. François de Fossa, who adapted these works of Haydn's, played this type of instrument. But, we had them re-built. After all, they played on new guitars back then, so why should we have to give concerts with old ones?"
The guitarist and composer François de Fossa (1775-1849) adapted these four Divertimentos for String Quartet from Joseph Haydn (1732-1809) as "Grand Duos for Two Guitars". De Fossa is still handled as a hot tip by today's guitarists. Only gradually is his work, including numerous adaptations and original compositions for solo guitars and guitar ensembles, being dug out of the archives and made accessible to the public.
Performer(s)
A
s Duo Sonare Thomas Offermann & Jens Wagner have enriched the world of music since 1984 with their elegant interpretations of modern and classical guitar music. "One of the top ensembles of its kind – for music of the 19th century maybe even the best." Their selected transcriptions are full of humour and originality. Their repertoire, performed on instruments of the respective musical era, brings the full opulence of chamber music to a felicitous consensus that proves how refreshingly old music can be presented to a contemporary audience. It is therefore no surprise that the duo has gained an international following on its concert tours and master courses in over forty countries.
Series & Edition
P
ublishing Authentic Classical Concerts entails for us capturing and recording outstanding performances and concerts for posterity. The performers, audience, opus and room enter into an intimate dialogue that in its form and expression, its atmosphere, is unique and unrepeatable. It is our aim, the philosophy of our house, to enable the listener to acutely experience every facet of this symbiosis, the intensity of the performance, so we record the concerts in direct 2-Track Stereo digital HD. The results are unparalleled interpretations of musical and literary works, simply - audiophile snapshots of permanent value. Flourishing culture, enthralling the audience and last but not least also you the listener, are the values we endeavor to document in our editions and series.
The concerts at the UNESCO World Heritage Maulbronn Monastery supply the ideal conditions for our aspirations. It is, above all, the atmosphere of the romantic, candle-lit arches, the magic of the monastery in its unadulterated sublime presence and tranquillity that impresses itself upon the performers and audience of these concerts. Renowned soloists and ensembles from the international arena repeatedly welcome the opportunity to appear here - enjoying the unparalleled acoustic and architectural beauty of this World Heritage Site, providing exquisite performances of secular and sacred music, documented by us in our Maulbronn Monastery Edition.
Andreas Otto Grimminger & Josef-Stefan Kindler, K&K Verlagsanstalt
Works, Movements & Tracklist
Joseph Haydn · François de Fossa
Grand duo pour deux guitares · Opus 2.1 - Hob III:7
1) Allegro · 2) Minuetto Allegro · 3) Adagio
4) Minuetto Allegro · 5) Finale Allegro
Joseph Haydn · François de Fossa
Grand duo pour deux guitares · Opus 2.3 - Hob III:9
6) Allegro · 7) Minuetto Allegro
8) Adagio · 9) Allegro Finale
Joseph Haydn · François de Fossa
Minuetto un poco allegretto
10) Opus 20.1 - Hob III:31
Joseph Haydn · François de Fossa
Grand duo pour deux guitares · Opus 2.2 - Hob III:8
11) Allegro · 12) Minuetto · 13) Adagio
14) Minuetto Allegro · 15) Finale Presto

***** Elegant music with a superb sound...
These are pleasing contemporary arrangements of Haydn's relatively little-known Divertimenti for string quartet. Undemanding, elegant music which adapts well to the two guitar medium, and has an added interest because this duo plays always on instruments of the respective musical era, rebuilt copies: 'after all, they played on new guitars back then, so why should we have to give concerts with old ones?' !

The sound as recorded in the Laymen Refectory of the 1147 Maulbronn Monastery is superb, and the pleasure vastly enhanced by looking at the fabulous website, with pictures instantly putting you right into the ambience of this World Heritage Site where some 25 concerts are held annually.

A superb guitar duo
I was absolutely privileged to witness three concerts by this superb guitar duo. I own all their recordings and don't feel there are many better at historical guitar interpretation than they.