Musique baroque de Telemann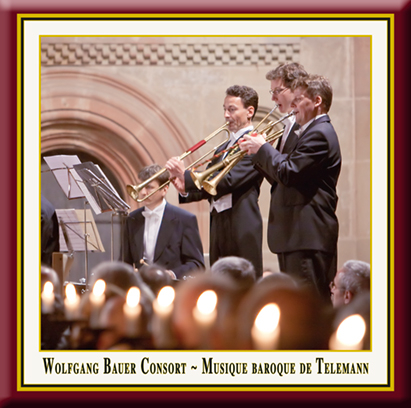 Wolfgang Bauer Consort
Musique baroque de Telemann
The Wolfgang Bauer Consort plays
works by Georg Philipp Telemann (1681-1767),
performed according to the traditions of the time:

Concerto in D for trumpet, 2 violins & B.C. ~ Concerto a 3 Clarin, Tympani, 2 Violin, Viola e Cembalo ~ Violin Sonata in A ~ Trumpet Concerto No. 2 ~ Sonatas "Sabato" & "Domenica" ~ Ouverture in D.

Soloists: Wolfgang Bauer (Baroque Trumpet),
Dietlind Mayer (Violin), Petra Müllejans (Violin),
Ludwig Hampe (Viola),
Georg Siebert & Ingo Goritzki (Oboe)

A concert recording from the church of Monastery Maulbronn

HD Recording · DDD · c. 73 Minutes

Streaming, Lossless- & High-Definition-Downloads via
Performer(s)
T
he primary occupation of the Wolfgang Bauer Consort is the performance of authentic Baroque chamber music pieces. The English Baroque term "Consort" accurately describes an ensemble comprising one or two soloists and a continuo of cello and harpsichord. The Consort's open structure provides the fundament for the comprehensive array and musical diversity of this performance in the monastery church, whose outstanding acoustics and atmosphere are able to document the complete range of Baroque virtuosity.
Wolfgang Bauer studied in Berlin with Konradin Groth at the Berlin Philharmonic's Orchesterakademie. At the age of 21 he was taken on by the RSO Franfurt while still a student as principal solo trumpeter. He stayed with that orchestra for 12 years and was also solo trumpeter with the symphony orchestra of Bavarian Radio.
He has attended intensive study courses with Lutz Köhler and Ed. H. Tarr. His breakthrough as a soloist came in 1993, when Wolfgang Bauer won the German Music Competition and the ARD International Music Competition in Munich in quick succession. Since then, he has been acknowledged as one of the leading trumpeters of his generation and has appeared as a soloist with famous orchestras like the Royal Philharmonic Orchestra London, the Orchestre National de France, the SO of Bavarian Radio, the radio symphony orchestras of Stuttgart and Frankfurt, the WDR Symphony Orchestra Cologne, the Radio Philharmonic of Hanover, the London Philharmonic Orchestra, the Polish Chamber Philharminic, and the Württemberg and Stuttgart Chamber Orchestra under conductors like Lorin Maazel, Carl St Clair, Donald Runnicles, Dimitri Kitayenko, Andrey Boreyko, Denis R. Davis and Eliahu Inbal. In 2000 Wolfgang Bauer was appointed a professor of trumpet at the "University of music and performing arts" in Stuttgart. In 2009 he was honoured with the ECHO Klassik as "best instrumental soloist of the year".
Since its foundation in 1994 the "Wolfgang Bauer Consort" was invited to festivals like the "Rheingau Music Festival", the "Schleswig-Holstein Music Festival" and the "Summer Festival" in Bad Kissingen. Beside tv- and radio-productions for "Hessischer Rundfunk" (Hessian Broadcasting) and "Norddeutscher Rundfunk" (North German Broadcasting) the Consort released a honoured CD for children in 2005 and another live-recording from Maulbronn Abbey, which includes the 2nd Brandenburg Concerto by J.S. Bach et al.
This concert was performed by Dietlind Mayer, Violin at "il capriccio" for example, Ludwig Hampe, sought specialist on the viola d'amore and soloist in the "Frankfurt Opera Orchestra", and Petra Müllejans, one of the leading baroque violinists in Europe. She is professor at the Academy of Music in Frankfurt and concert master, musical director, soloist and chamber musician of the "Freiburg Baroque Orchestra". One focus of her musical work is chamber music from the 17th and 18th century, which she performs with the "Freiburg Baroque Consort" and the Ensemble "The Age of Passions". The woodwind group was Georg Siebert (oboe), Ingo Goritzki (oboe) - professor at the Academy of Music in Stuttgart - and Arie Hordijk on bassoon. The Trumpet section consisted of Wolfgang Bauer, Tobias Ziegler and Martin Maier (Stuttgart State Opera), supported on timpani by Gregor Daszko.
The basso continuo (figured bass) with Thomas Strauss on harpsichord and Clemens Weigel on cello form the basis of the Consort. Both are renowned baroque specialists. Thomas Strauss is cantor in Oppenau, Clemens Weigel is cellist on "Gärtnerplatztheater" Munich. The double bass is performed by Davide Vittone.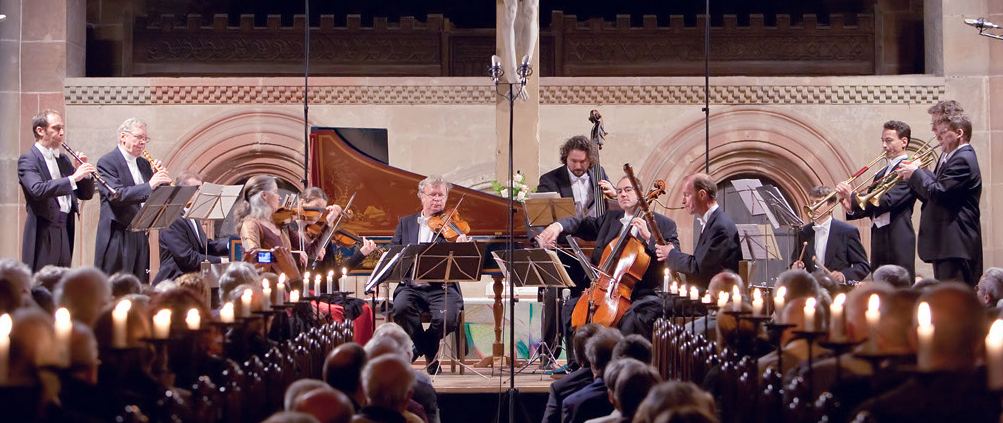 Wolfgang Bauer, Martin Maier & Tobias Ziegler ~ Baroque Trumpet
Georg Siebert & Ingo Goritzki ~ Oboe · Arie Hordijk ~ Bassoon
Petra Müllejans & Dietlind Mayer ~ Violin
Ludwig Hampe ~ Viola · Clemens Weigel ~ Cello
Davide Vittone ~ Double Bass · Thomas Strauss ~ Harpsichord
Gregor Daszko ~ Timpani
Series & Edition
P
ublishing Authentic Classical Concerts entails for us capturing and recording outstanding performances and concerts for posterity. The performers, audience, opus and room enter into an intimate dialogue that in its form and expression, its atmosphere, is unique and unrepeatable. It is our aim, the philosophy of our house, to enable the listener to acutely experience every facet of this symbiosis, the intensity of the performance, so we record the concerts in direct 2-Track Stereo digital HD. The results are unparalleled interpretations of musical and literary works, simply - audiophile snapshots of permanent value. Flourishing culture, enthralling the audience and last but not least also you the listener, are the values we endeavor to document in our editions and series.
The concerts at the UNESCO World Heritage Maulbronn Monastery supply the ideal conditions for our aspirations. It is, above all, the atmosphere of the romantic, candle-lit arches, the magic of the monastery in its unadulterated sublime presence and tranquillity that impresses itself upon the performers and audience of these concerts. Renowned soloists and ensembles from the international arena repeatedly welcome the opportunity to appear here - enjoying the unparalleled acoustic and architectural beauty of this World Heritage Site, providing exquisite performances of secular and sacred music, documented by us in our Maulbronn Monastery Edition.
Andreas Otto Grimminger & Josef-Stefan Kindler, K&K Verlagsanstalt
Works, Movements & Tracklist
Concerto in D
for trumpet, 2 violins & B.C.
Soloists: Wolfgang Bauer (Trumpet), Petra Müllejans & Dietlind Mayer (Violin)
1. Adagio ~ 2. Allegro
3. Grave ~ 4. Allegro
Concerto
a 3 Clarin, Tympani, 2 Violin, Viola e Cembalo
5. Largo ~ 6. Allegro
7. Adagio ~ 8. Presto
Violin Sonata in A Major
from: Tafelmusik for Violin & B.C.
Soloist: Petra Müllejans (Violin)
9. Andante ~ 10. Vivace
11. Cantabile ~ 12. Allegro
Trumpet Concerto No. 2 in D Major
for trumpet, 2 oboes, bassoon & B.C.
Soloists: Wolfgang Bauer (Trumpet), Georg Siebert & Ingo Goritzki (Oboe)
13. Largo ~ 14. Vivace
15. Siciliano ~ 16. Vivace
Sonata "Sabato" & Sonata "Domenica"
from "Scherzi Melodichi per divertimento di coloro che prendono le Acque minerali in Pirmonte con Ariette semplici e facili a Violino, Viola e Fondamento", Hamburg 1734
Soloists: Dietlind Mayer (Violin), Ludwig Hampe (Viola)
17. Introduzione sesta: Vivace
18. No.1: Presto ~ 19. No.2: Dolce
20. No.3: Allegro ~ 21. No.4: Vivace
22. No.5: Allegro ~ 23. No.6: Vivace
24. Introduzione settima: Largo-Presto-Largo
25. No.1: Andante ~ 26. No.2: Moderato
27. No.3: Vivace ~ 28. No.4: Dolce
29. No.5: Vivace ~ 30. No.6: Allegro
Ouverture in D Major
for 3 trumpets, timpani, 2 oboes, strings & B.C.
31. Intrada ~ 32. Allegro
33. Largo ~ 34. Vivace
George Frideric Handel:
35. Ouverture from the Suite in D Major
arranged by Wolfgang Bauer

*****This is incredible! There are no tracks that I want to skip
This is incredible! I enjoy baroque music but am in no way a classical music buff. I had never known of Telemann until I happened upon this by chance. I heard an excerpt that totally caught my attention when I was flipping through car radio stations. It was so fetching that I immediately had to search the web to find out about Telemann & this CD. Luckily I found it. It is so tasteful. The 35 short concertos flow so well together & provide enough variety to keep it engaging using instrumentation original to the baroque era. None of it is irritating. There are no tracks that I want to skip. The lead trumpet, violin, etc. are clean , light , skillful. This CD is so beautifully done, and it has a positive effect on the soul. Highly Recommend.

Great music by a brilliant composer played by a superb ensemble

The striking ambience of this particular recording was truly eye-opening...
This fine disc is yet another in the stunning series of CDs produced by the enterprising Josef-Stefan Kindler and Andreas Otto Grimminger and recorded in the sublime acoustic of the UNESCO World Heritage site of the Maulbronn monastery near Heilbronn in Germany. Telemann has become quite well served on record of late but this eclectically mixed concert is a joy just to sit back and relax with the sounds of trumpet, string instruments and clarinets competing for attention. I have recently had the opportunity to listen to several CDs from the Concentus Musicus Wien in numerous Telemann works but the striking ambience of this particular recording was truly eye-opening. Each soloist led by the able virtuoso Wolfgang Bauer brings the works to life in an uncanny sense of historically informed music making. This is a joyful disc which deserves the widest possible currency.