Ysaÿe: Variations for 2 Pianos, Op. 10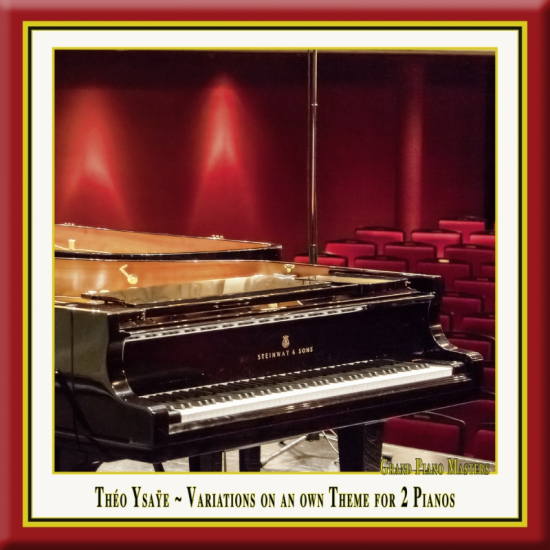 EUR 3,80
Théo Ysaÿe (1865-1918):
Variations for 2 Pianos, Op. 10
Variations on a theme for two pianos, Op. 10,
performed live by Rolf Plagge and Wolfgang Manz ("Duo Reine Elisabeth")
on 2 Concert Grand Pianos D-274 by Steinway & Sons.

A concert recording from the City Theater Kempten (Germany), March 16th 2012.

HD Recording · DDD · Duration: 14 Min. 23 Sec.
Digital Album · 3 Tracks
1 x
∅ 6:23
€ 1.90
MP3 · 320kBit/sec.
by Théo Ysaÿe, performed by Rolf Plagge and Wolfgang Manz ("Duo Reine Elisabeth")
x
1 x
∅ 3:17
€ 0.95
MP3 · 320kBit/sec.
by Théo Ysaÿe, performed by Rolf Plagge and Wolfgang Manz ("Duo Reine Elisabeth")
x
1 x
∅ 4:42
€ 0.95
MP3 · 320kBit/sec.
by Théo Ysaÿe, performed by Rolf Plagge and Wolfgang Manz ("Duo Reine Elisabeth")
x

Streaming, Lossless- & High-Definition-Downloads via
Work(s) & Performance
T
héophile Ysaÿe (French: [te.ofil iza.i]; 2 March 1865 – 24 March 1918)[1] was a Belgian composer and pianist, born in Verviers, Belgium. His brother was the violinist and conductor Eugène Ysaÿe.
Rather overshadowed throughout his life by the career of his elder brother Eugène, Théo Ysaÿe began amateur studies in music at the Liège Conservatory and, on Eugène's advice, furthered his education in Berlin. In 1885, Ysaÿe returned to Paris, where he joined the Bande à Franck but also supported the growth of a new aesthetic movement represented by the impressionism of Claude Debussy. Ysaÿe helped promote the work of the new school of French musicians, in Brussels. In 1894, he and his brother found engagements with the La Libre Esthétique in Brussels, which offered the residents of the city the opportunity to experience a generous range of displays in both music and the plastic arts. Ysaÿe contributed his talents as a pianist and a répétiteur.
Although Ysaÿe was an excellent pianist, his fragile health did not allow him to follow the hectic pace of his brother's career and he instead became a professor at the Genève Conservatory of Music.
In 1918, Théo Ysaÿe died in Nice, France, two days before Debussy. His relatively vast oeuvre has not been published in its entirety, let alone performed as such. His opus 13, 14 and 15 were published by G. Schirmer in New York. He wrote symphonies, piano concertos, symphonic poems, and chamber music, principally, as well as a requiem. While he inherited initially the style of César Franck, his later work revealed a clear influence of impressionism.
From Wikipedia, the free encyclopedia
Performer(s)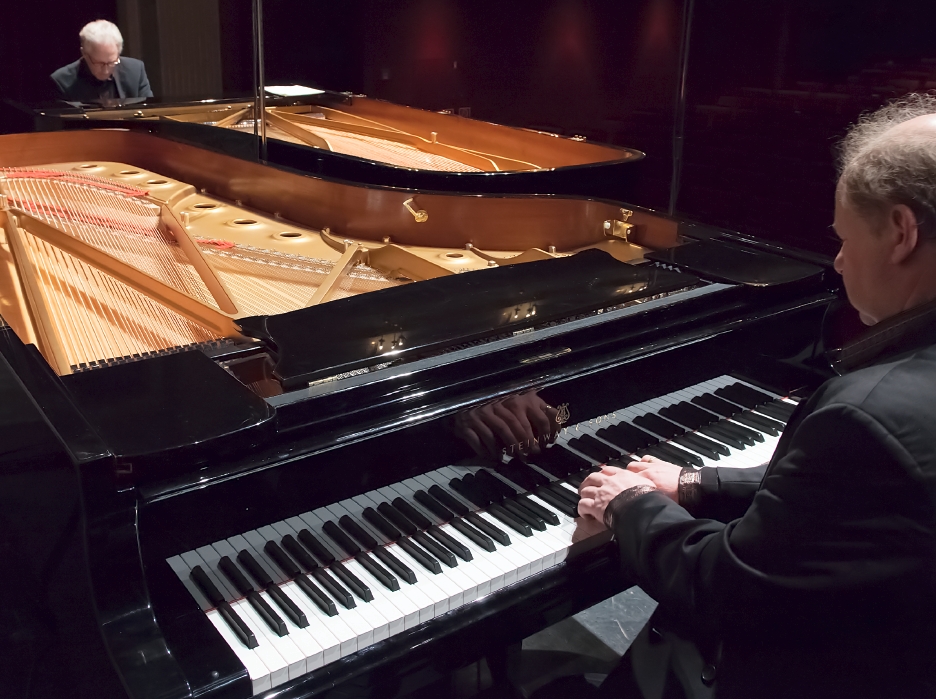 R
olf Plagge and Wolfgang Manz came to prominence after their remarkable successes at international piano competitions such as Leeds, Brussels, Warsaw and Moscow where they won major prizes. Today they belong to the most distinguished pianists of their generation. Both have completed their studies at the renowned "Hochschule für Musik und Theater" in Hanover; both have received many rewards and various scholarships.
Apart from their extensive activities as soloists in Germany and abroad, Rolf Plagge and Wolfgang Manz formed a piano duet in 1988 called Duo "Reine Elisabeth", in commemoration to the world-famous piano competition "Concours Reine Elisabeth" in Brussels, Belgium, in which their successful participation in 1983 and 1987 launched their international careers.
The DUO has performed in several European countries as well as in Middle and South America (Chile, Mexico). Both pianists have played together with famous conductors like Bernhard Klee, Pierre Bartholomée, Christian Kluttig, Frank Beermann and others.
There is a large repertoire available reaching from the baroque style to the classic, romantic and modern eras. Apart from classical and romantic programmes both pianists also feature works of contemporary composers such as Volker Blumenthaler, Richard Heller, Karl Thieme, Frédéric van Rossum, Daniel Capelletti or Piet Swerts. A special achievement of the DUO is the performance of rare transcriptions of well-known orchestral works and ballets: Igor Stravinsky's "Petrushka", "Le Sacre du Printemps", Franz Liszt's version of the Ninth Symphony of Beethoven for 2 pianos, Aram Chatchaturjan's ballets "Gayaneh" and "Spartak" or the Piano Concerto-Fantasy on Chinese Folk Tales by Alexander Tcherepnin. In the opera houses in Leipzig and Karlsruhe the "Sacre" has been performed by the DUO over twenty times in different choreographies (Uwe Scholz, Davide Bombana).
Both pianists are teaching as professors at famous music universities. Rolf Plagge is chairman of all juries and boards for pedagogic piano studies at the Mozarteum in Salzburg, Wolfgang Manz is member of the senate and head of the keyboard section at the Nürnberg University of Music.
Several CDs have so far been produced. Besides works of Sergej Rachmaninov, Dimitri Schostakowitsch and Alexander Scriabine, the EMS CD ("Russian Music I") presents an adaptation for two pianos of Igor Stravinsky's ballet "Petrushka" as complete version of all four scenes created by the DUO.
Series & Edition
P
ublishing Authentic Classical Concerts entails for us capturing and recording outstanding performances and concerts for posterity. The performers, audience, opus and room enter into an intimate dialogue that in its form and expression, its atmosphere, is unique and unrepeatable. It is our aim, the philosophy of our house, to enable the listener to acutely experience every facet of this symbiosis, the intensity of the performance, so we record the concerts in direct 2-Track Stereo digital HD. The results are unparalleled interpretations of musical and literary works, simply - audiophile snapshots of permanent value. Flourishing culture, enthralling the audience and last but not least also you the listener, are the values we endeavor to document in our editions and series.
The concert grand piano is incontestably the king of instruments. We could now wax lyrical about its incomparable dynamics and go into its ability to go from the tenderest of sounds in a soft minor key to the magnificent power of a fortissimo, or I could rhapsodise about its impressive size and elegance. But what makes this instrument really fascinating is its individuality, since each one is unique in itself - created by a master. A concert grand has a life all of its own that a virtuoso can really "get into" and hence bring the work of the composer to life. In our Grand Piano Masters Series, we get into the character and soul of the concert grand piano and experience, during the performance itself, the dialogue between the instrument, the virtuoso and the performance space.
Andreas Otto Grimminger & Josef-Stefan Kindler, K&K Verlagsanstalt