Marco Marchi & The Mojo Workers · Gooood Mornin'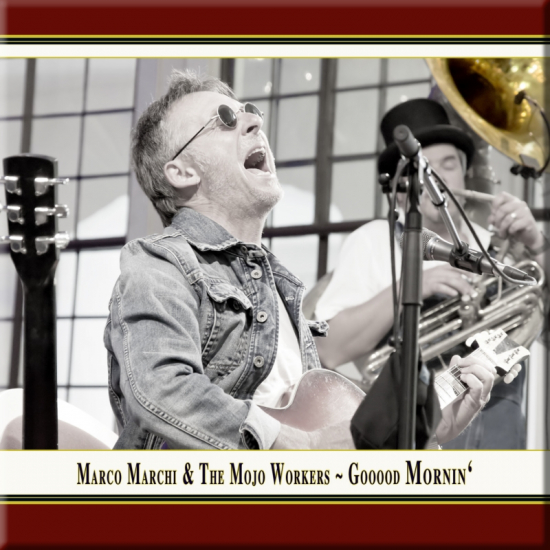 Marco Marchi & The Mojo Workers
Gooood Mornin'
Highlights from the concert of the Acoustic Blues Quartet "Marco Marchi & The Mojo Workers"
at the "Swinging Castle Festival" in Bad Homburg (Germany) on June 22, 2014
with songs by Marco Marchi, Blind Blake, Sonny Boy Williamson, Milton Ager,
Joe Goodwin, Jimmy Cox, Robert Johnson, Sleepy John Estes, Walter Jacobs et. al.

Marco Marchi ~ Electric & Resophonic Guitar & Vocals
Marco Simoncelli ~ Harmonica
Fabio Bianchi ~ Tuba & Electric Bass
Toby Stiftner ~ Drums, Washboard & Percussion

15 Tracks · DDD · Total Playing Time: 70 Min. 42 Sec.

Available for streaming, as lossless download and high-definition download via
Performer(s)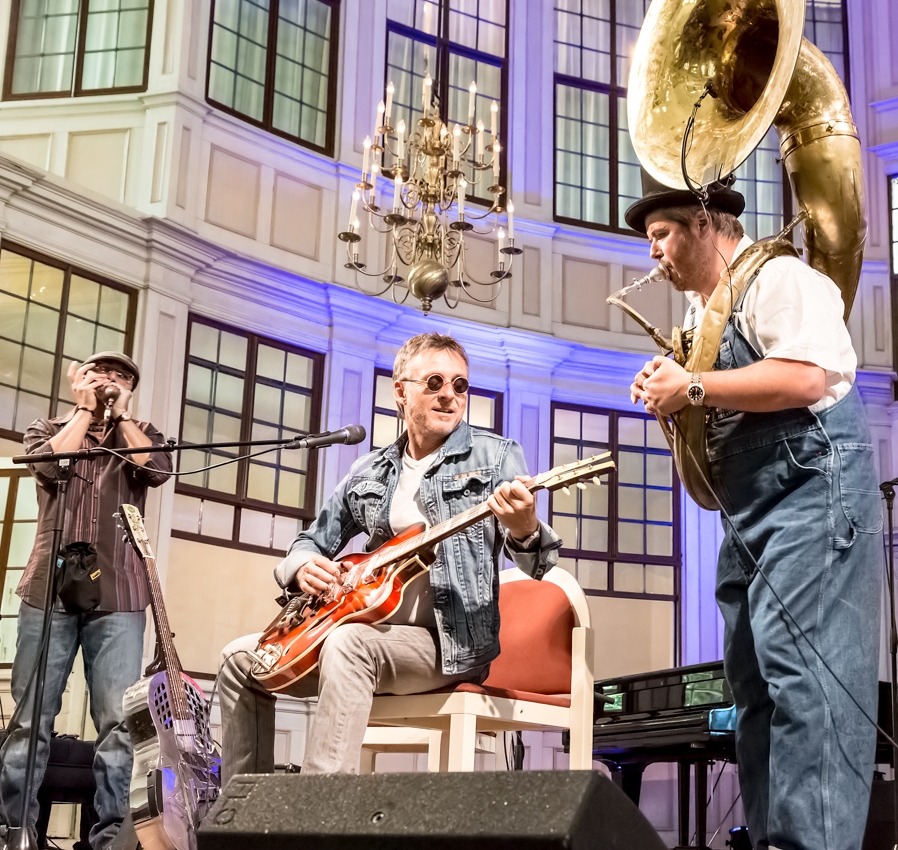 M
arco Marchi & The Mojo Workers is an acoustic blues quartet formed by experienced musicians. They have been able to carve out a niche in the European Blues scene, performing a repertoire of Blues, Ragtime, Early Jazz and Boogie from the 1920's to the 1950's. The band's sound is designed with a completely personal style. Their songs are interpreted by assimilating the original energy and playing with passion and authenticity. The result: an absorbing blend of sounds filled with pathos of the past. Since their first concert in the autumn of 2009, the band has enjoyed growing success, both with the international public and music press. Today they are seen as holding great promise for the blues scene. The band is continuing with an extensive schedule of concerts, including plenty of performances at both local and international festivals.
Series & Edition
Music that is new, pieces worth listening to and well worth conserving, little treasures from the traditional and the avantgarde - music that is unimaginable anywhere else but in the hotbed of Europe - we capture these in our Castle Concerts Series of recordings in their original settings in cooperation with Volker Northoff.
Andreas Otto Grimminger & Josef-Stefan Kindler, K&K Verlagsanstalt
Works, Movements & Tracklist
01. Diddy wah diddy
by Blind Blake
02. All of me
by Gerald Marks & Seymour Simons
03. When I'm gone
by Marco Marchi
04. Early in the morning
by Sonny Boy Williamson
05. Big bad Billy
by Milton Ager & Jack Yellen
06. Will the circle be unbroken
traditional
07. Relax baby
by Marco Marchi
08. Take a look at yourself
by Marco Marchi
09. When you're smiling
by Larry Shay, Mark Fisher & Joe Goodwin
10. Nobody knows
by Jimmy Cox
11. Last fair deal gone down
by Robert Johnson
12. Your feets too big
by Fred Fisher & Ada Benson
13. Meat shaking woman
by Robert Johnson
14. Divin' duck blues
by Sleepy John Estes
15. One more chance with you
by Walter Jacobs

A concert recording to "Direct 2-Track Stereo Digital HD"
from the Castle Church in Bad Homburg (Germany), recorded, released
& created by Andreas Otto Grimminger & Josef-Stefan Kindler
in cooperation with Volker Northoff.

Concert Date: June 22, 2014
Sound & Recording Engineer: Andreas Otto Grimminger
Production & Mastering: Andreas Otto Grimminger & Josef-Stefan Kindler
Photography, Artwork & Coverdesign: Josef-Stefan Kindler

Fresh air in the Blues world
Marco Marchi and The Mojo Workers are a breath of fresh air in the Blues world. Their take on the Blues is innovative, exciting and unique. They blew into Memphis, and blew our minds with great songs, great musicianship and great personalities.