MIDNIGHT CLASSICS Vol. 2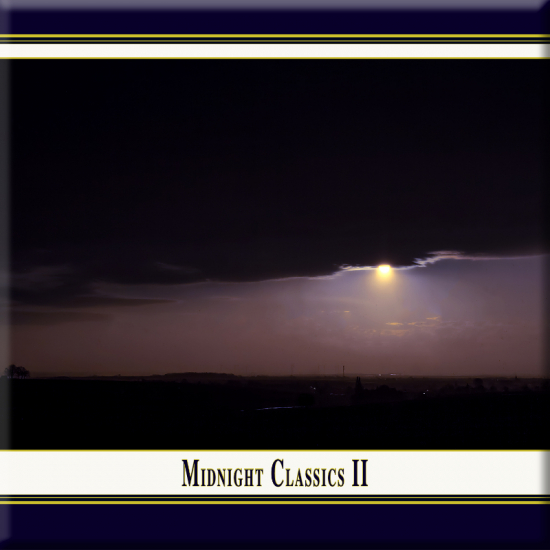 Volume 2
Midnight Classics
Music just to relax...
by Dvorák, Mozart, Schubert,
Brahms, Bach, Janácek, Franck and Lauridsen

DDD · Duration: 40 Min. 04 Sec.
Digital Album · 9 Tracks


Available for streaming, as lossless download and high-definition download via
Series & Edition
P
ublishing Authentic Classical Concerts entails for us capturing and recording outstanding performances and concerts for posterity. The performers, audience, opus and room enter into an intimate dialogue that in its form and expression, its atmosphere, is unique and unrepeatable. It is our aim, the philosophy of our house, to enable the listener to acutely experience every facet of this symbiosis, the intensity of the performance, so we record the concerts in direct 2-Track Stereo digital HD. The results are unparalleled interpretations of musical and literary works, simply - audiophile snapshots of permanent value. Flourishing culture, enthralling the audience and last but not least also you the listener, are the values we endeavor to document in our editions and series.
The concerts at the UNESCO World Heritage Maulbronn Monastery supply the ideal conditions for our aspirations. It is, above all, the atmosphere of the romantic, candle-lit arches, the magic of the monastery in its unadulterated sublime presence and tranquillity that impresses itself upon the performers and audience of these concerts. Renowned soloists and ensembles from the international arena repeatedly welcome the opportunity to appear here - enjoying the unparalleled acoustic and architectural beauty of this World Heritage Site, providing exquisite performances of secular and sacred music, documented by us in our Maulbronn Monastery Edition.
Music that is new, pieces worth listening to and well worth conserving, little treasures from the traditional and the avantgarde - music that is unimaginable anywhere else but in the hotbed of Europe - we capture these in our Castle Concerts Series of recordings in their original settings in cooperation with Volker Northoff.
The concert grand piano is incontestably the king of instruments. We could now wax lyrical about its incomparable dynamics and go into its ability to go from the tenderest of sounds in a soft minor key to the magnificent power of a fortissimo, or I could rhapsodise about its impressive size and elegance. But what makes this instrument really fascinating is its individuality, since each one is unique in itself - created by a master. A concert grand has a life all of its own that a virtuoso can really "get into" and hence bring the work of the composer to life. In our Grand Piano Masters Series, we get into the character and soul of the concert grand piano and experience, during the performance itself, the dialogue between the instrument, the virtuoso and the performance space.
Andreas Otto Grimminger & Josef-Stefan Kindler, K&K Verlagsanstalt
Works, Movements & Tracklist
1. Impromptu in G-Flat Major
Op. 90, No. 3 (D.899/3)
by Franz Schubert
Performed by Franz Vorraber (Piano)
2. Sus pe culmea dealului
by anonymous
Performed by Ulrich Herkenhoff (Pan Flute) and Matthias Keller (Pipe Organ)
3. Intermezzo No. 3 in A-Flat Major
from 8 Pieces for Piano, Op. 76
by Johannes Brahms
Performed by Lilya Zilberstein (Piano)
4. Flute Sonata in E-Flat Major, BWV 1031
by Johann Sebastian Bach
II. Siciliano
Performed by Ulrich Herkenhoff (Pan Flute) and Matthias Keller (Pipe Organ)
5. Prélude, Fugue et Variation, Op. 18
by César Franck
I. Prelude
Performed by Ulrich Herkenhoff (Pan Flute) and Matthias Keller (Pipe Organ)
6. Piano Concerto No. 23
in A Major, K. 488
by Wolfgang Amadeus Mozart
II. Adagio
Performed by Christoph Soldan (Piano) and the Capella Istropolitana under the direction of Pawel Przytocki
7. Serenade for String Orchestra
in E Major, Op. 22, B. 52
by Antonín Dvorák
I. Moderato
Performed by the Beethoven Academy Orchestra under the direction of Pawel Przytocki
8. String Quartet No. 2
"Listy duverne " (Intimate Letters), JW VII/13
by Leoš Janácek
II. Adagio
Performed by the Amati String Quartet
9. O Magnum Mysterium
by Morten Lauridsen
Performed by the Maulbronn Chamber Choir under the direction of Jürgen Budday

Sound & Recording Engineer: Andreas Otto Grimminger.
Mastering & Production: Andreas Otto Grimminger & Josef-Stefan Kindler.
Photography: Josef-Stefan Kindler.
Artwork & Coverdesign: Josef-Stefan Kindler.