K&K Impressions · Classic Romance I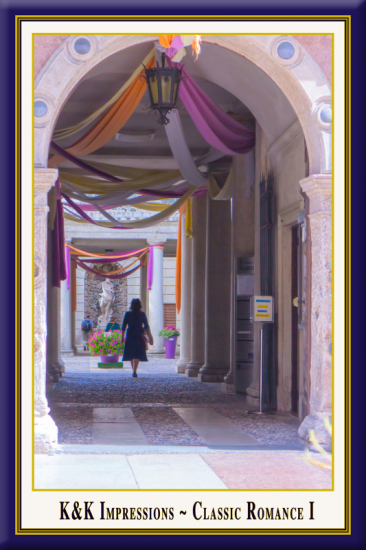 K&K Impressions
Classic Romance I
Visual impressions by Josef-Stefan Kindler
featuring selected romantic classical music
by Beethoven, Danzi, Handel, Mozart,
Tchaikovsky & Torelli

7 Chapters · Runtime: c. 37 Minutes
Chapters & Tracklist
Pyotr Ilyich Tchaikovsky (1840-1893):
1. Six Pieces For Piano Op. 19, No. 4: Nocturne
Performed by Severin von Eckardstein (Piano)
Giuseppe Torelli (1658-1709)
2. Sonata in D Major, G 1: III. Grave
Performed by the Wolfgang Bauer Consort
George Frideric Handel (1685-1759)
3. With plaintive notes and am'rous moan
Air of Delila from the Oratorio Samson, HWV 57
Performed by Sinéad Pratschke (Soprano) & the Monastery Baroque Orchestra.
Conductor: Jürgen Budday.
Wolfgang Amadeus Mozart (1756-1791)
4. Violin Concerto No. 5 in A Major, K. 219 'Turkish': II. Adagio
Performed by Linus Roth (Violin) & the Wuerttemberg Chamber Orchestra.
Conductor: Jörg Faerber.
Ludwig van Beethoven (1770-1827)
5. Piano Trio No. 6 in E-Flat Major, Op. 70, No. 2: III. Allegretto ma non troppo
Performed by the Trio Fontenay
George Frideric Handel (1685-1759)
6. Largo for Lute Solo
Lute Solo from the Oratorio Saul, HWV 53
Franz Danzi (1763-1826)
7. Wind Quintet No. 2 in G Minor, Op. 56, No. 2: II. Andante
Performed by the Berlin Chamber Consort

Josef-Stefan Kindler ~ Images, Art, Direction, Movie & Music Producer
Andreas Otto Grimminger ~ Sound Engineer & Music Producer
Series & Edition
P
ublishing Authentic Classical Concerts entails for us capturing and recording outstanding performances and concerts for posterity. The performers, audience, opus and room enter into an intimate dialogue that in its form and expression, its atmosphere, is unique and unrepeatable. It is our aim, the philosophy of our house, to enable the listener to acutely experience every facet of this symbiosis, the intensity of the performance, so we record the concerts in direct 2-Track Stereo digital HD. The results are unparalleled interpretations of musical and literary works, simply - audiophile snapshots of permanent value. Flourishing culture, enthralling the audience and last but not least also you the listener, are the values we endeavor to document in our editions and series.
Andreas Otto Grimminger & Josef-Stefan Kindler, K&K Verlagsanstalt

Thank you
Thank you. Happy New Year!