BEETHOVEN: Piano Sonata No. 23 "Appassionata"
Ludwig van Beethoven:
Piano Sonata No. 23 "Appassionata"
Art Movie by Josef-Stefan Kindler
after and with Ludwig van Beethoven's
Sonata No. 23 in F Minor Opus 57 "Appassionata",
performed live by Lilya Zilberstein
at Bad Homburg Castle (Germany)
on a C. Bechstein concert grand piano D 280

3 Chapters · Runtime: c. 26 Minutes
Music Performer(s)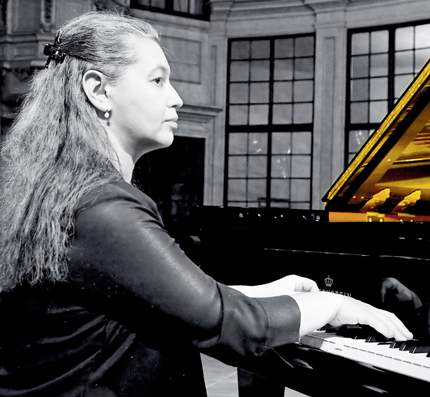 T
he path that Lilya Zilberstein has taken reflects the triumph of a calling, a dogged determination to overcome obstacles that would have shattered any other talent: the eighties in the USSR were times of overt, yet unofficial antisemitism. Despite all the first prizes won at important Russian and Soviet competitions - at the Russian Federation's 1985 competition, for example - she was told in no uncertain terms that she was persona non grata at the Moscow Conservatory because of her Jewish origins. Permission to take part in international piano competitions was withheld, in particular when it came to the International Tchaikovsky Competition. The one exception to this in 1987 was more of a coincidence than anything else: she was given permission to take part in the Busoni Competition in Bozen. Her triumph there was a sensation, and five years passed before a first prize was ever awarded in Bozen again. Her debut in the West marked the turning point of Lilya's career, and experts in the music branch pricked up their ears. By August 1998, she had received the International Accademia Musicale Chigiana Prize in Siena. Holders of this award include Gidon Kremer, Anne-Sophie Mutter and Krystian Zimerman. Fast on the heels of this honour came extended tournées in numerous countries throughout Western Europe as well as an exclusive contract with Deutsche Grammophon. Since that time, Lilya Zilberstein has been a presence on the great stages of the world. In 1991, she debuted at the Berlin Philharmonic with Claudio Abbado conducting, which laid the foundations for repeated collaboration between them. She has participated in concerts with the most renowned international orchestras, including the Chicago Symphony Orchestra, the Moscow Tchaikovsky Symphony Orchestra, the London Symphony and Royal Philharmonic Orchestras, the orchestra of Milan's La Scala and many, many more. Besides Claudio Abbado, she has worked with conductors such as Paavo Berglund, Semyon Bychkov, Christoph Eschenbach, Vladimir Fedossejew, Dmitrij Kitajenko, James Levine, Marcello Viotti, Hugh Wolff and Michael Tilson Thomast. Deutsche Grammophon and Lilya Zilberstein have produced legendary CDs. A particular highlight is the benchmark recording of the Rachmaninov Piano Concertos with Claudio Abbado and the Berlin Philharmonic. And in addition to her career as a soloist, Lilya Zilberstein is a passionate performer of chamber music and works with the great soloists of the day. The piano duo of Martha Argerich and Lilya Zilberstein has been highly acclaimed all over the world for many a year now. Over and above this, she regularly goes on world tournées with violinist Maxim Vengerow. The international press agrees on one thing: there is no superlative too good for her! Lilya Zilberstein belongs firmly in the circle of those magical sorcerers of sound on the piano.
Series & Edition
P
ublishing Authentic Classical Concerts entails for us capturing and recording outstanding performances and concerts for posterity. The performers, audience, opus and room enter into an intimate dialogue that in its form and expression, its atmosphere, is unique and unrepeatable. It is our aim, the philosophy of our house, to enable the listener to acutely experience every facet of this symbiosis, the intensity of the performance, so we record the concerts in direct 2-Track Stereo digital HD. The results are unparalleled interpretations of musical and literary works, simply - audiophile snapshots of permanent value. Flourishing culture, enthralling the audience and last but not least also you the listener, are the values we endeavor to document in our editions and series.
Music that is new, pieces worth listening to and well worth conserving, little treasures from the traditional and the avantgarde - music that is unimaginable anywhere else but in the hotbed of Europe - we capture these in our Castle Concerts Series of recordings in their original settings in cooperation with Volker Northoff.
The concert grand piano is incontestably the king of instruments. We could now wax lyrical about its incomparable dynamics and go into its ability to go from the tenderest of sounds in a soft minor key to the magnificent power of a fortissimo, or I could rhapsodise about its impressive size and elegance. But what makes this instrument really fascinating is its individuality, since each one is unique in itself - created by a master. A concert grand has a life all of its own that a virtuoso can really "get into" and hence bring the work of the composer to life. In our Grand Piano Masters Series, we get into the character and soul of the concert grand piano and experience, during the performance itself, the dialogue between the instrument, the virtuoso and the performance space.
Andreas Otto Grimminger & Josef-Stefan Kindler, K&K Verlagsanstalt

Bringing most emotions to me...
Her version of the third movement is the one bringing most emotions to me. Thanks.