Grand Piano Masters · Comme un jeux d'eau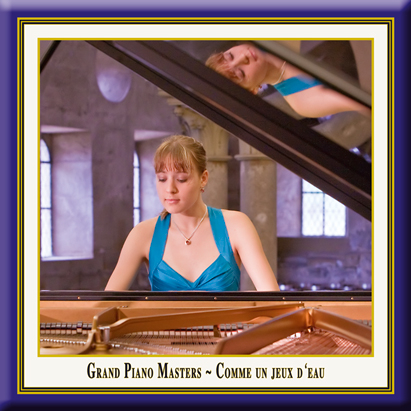 Grand Piano Masters
Comme un jeux d'eau
Magdalena Müllerperth plays

Johann Sebastian Bach:
French Suite No. 5 in G Major,
Joseph Haydn:
Variations in F Minor "Sonata un piccolo Divertimento",
Robert Schumann:
Piano Sonata in G Minor Opus 22,
Frédéric Chopin:
Impromptus No. I - III & Fantaisie Op.posth.66,
Maurice Ravel:
Jeux d'eau,
Franz Liszt:
Hungarian Rhapsody No. 10

Instrument:
Steinway & Sons Concert Grand Piano D-274

A concert recording from the German
UNESCO World Heritage Site Maulbronn Monastery

HD Recording · DDD · c. 82 Minutes

Streaming, Lossless- & High-Definition-Downloads via
Performer(s)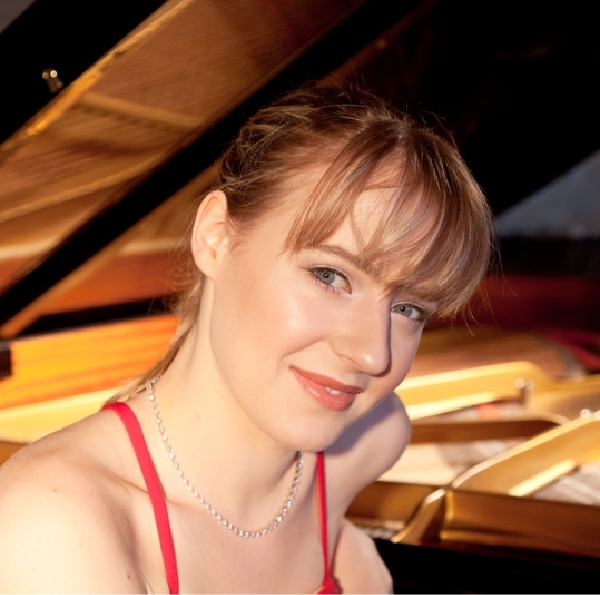 D
espite her young age the pianist Magdalena Müllerperth, born in Pforzheim (Germany) in 1992, is looking back on a remarkable career.
Since 1999 she has won more than 35 prizes at piano-competitions, inlcuding the "Les Rencontres internationales des Jeunes Pianistesde l´An 2002" in Belgium, the "Premio della Critica 2004" (RAI) at "Concorso Europeo di Musica" in Italy, the German state piano competition "Jugend musiziert" 2005 and the first price of the "Minnesota Orchestra, Young People´s Symphony Concert Association" in the USA. She begann piano lessons at the age of five. Three years later she became a student - in 2003 a junior student - of Prof. Sontraud Speidel at the Public University of Music in Karlsruhe (Germany). Since November 2007 Magdalena Müllerperth has been a student of Prof. Alexander Braginsky at the University of Minnesota, Minneapolis and Hamline University, St. Paul, Minnesota USA, founded by scholarships.
Beside recitals in Europe, Russia and the USA, Magdalena Müllerperth performs as a featured soloist with renowned orchestras, such as the "Baden-Badener Philharmoniker" conducted by Werner Stiefel, the "Slovak Sinfonietta" under Peter Wallinger, the "Kurpfälzer Kammerorchester", the "Stuttgarter Philharmoniker" conducted by Simon Gaudenz, the "State Philharmonic Orchestra of Ukrain" Lugansk conducted by Kurt Schmid and the "Minnesota Orchestra" under Marc Russel Smith.
On this disc you hear the first live-recording of a piano recital with this exceptional artist.
Series & Edition
P
ublishing Authentic Classical Concerts entails for us capturing and recording outstanding performances and concerts for posterity. The performers, audience, opus and room enter into an intimate dialogue that in its form and expression, its atmosphere, is unique and unrepeatable. It is our aim, the philosophy of our house, to enable the listener to acutely experience every facet of this symbiosis, the intensity of the performance, so we record the concerts in direct 2-Track Stereo digital HD. The results are unparalleled interpretations of musical and literary works, simply - audiophile snapshots of permanent value. Flourishing culture, enthralling the audience and last but not least also you the listener, are the values we endeavor to document in our editions and series.
The concerts at the UNESCO World Heritage Maulbronn Monastery supply the ideal conditions for our aspirations. It is, above all, the atmosphere of the romantic, candle-lit arches, the magic of the monastery in its unadulterated sublime presence and tranquillity that impresses itself upon the performers and audience of these concerts. Renowned soloists and ensembles from the international arena repeatedly welcome the opportunity to appear here - enjoying the unparalleled acoustic and architectural beauty of this World Heritage Site, providing exquisite performances of secular and sacred music, documented by us in our Maulbronn Monastery Edition.
The concert grand piano is incontestably the king of instruments. We could now wax lyrical about its incomparable dynamics and go into its ability to go from the tenderest of sounds in a soft minor key to the magnificent power of a fortissimo, or I could rhapsodise about its impressive size and elegance. But what makes this instrument really fascinating is its individuality, since each one is unique in itself - created by a master. A concert grand has a life all of its own that a virtuoso can really "get into" and hence bring the work of the composer to life. In our Grand Piano Masters Series, we get into the character and soul of the concert grand piano and experience, during the performance itself, the dialogue between the instrument, the virtuoso and the performance space.
Andreas Otto Grimminger & Josef-Stefan Kindler, K&K Verlagsanstalt
Works, Movements & Tracklist
Johann Sebastian Bach (1685-1750):
French Suite No. 5 in G Major, BWV 816
1. Allemande ~ 2. Courante ~ 3. Sarabande
4. Gavotte ~ 5. Bourrée ~ 6. Loure ~ 7. Gigue
Joseph Haydn (1732-1809):
8. Variations in F Minor
"Sonata un piccolo Divertimento", Hob.XVII:6
Robert Schumann (1810-1856):
Piano Sonata No. 2 in G Minor, Op. 22
9. So rasch wie möglich ~ 10. Andantino
11. Scherzo ~ 12. Rondo
Frédéric Chopin (1810-1849):
13. Impromptu No. 1 in A Flat Major, Op. 29
14. Impromptu No. 2 in F Sharp Major, Op. 36
15. Impromptu No. 3 in G Flat Major, Op. 51
16. Fantaisie - Impromptu in C Sharp Minor, Op. posth. 66
Maurice Ravel (1875-1937):
17. Jeux d'eau
Franz Liszt (1811-1886):
18. Hungarian Rhapsody No. 10 in E Major
Concert Grand Piano:
Steinway & Sons, D-274 - No.: 573666

So soo sooo beautiful.. I love it!