Louis Spohr · The Last Judgement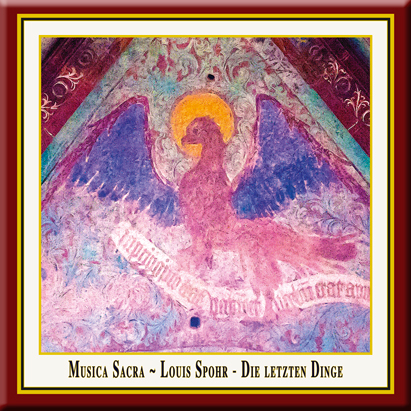 Louis Spohr (1784-1859):
The Last Judgement
The oratorio "Die letzten Dinge"
based on verses from the Holy Scripture
in a complete live recording of the
original version from 1826, sung in German,
with Miriam Meyer (Soprano),
Ursula Eittinger (Mezzo-Soprano),
Marcus Ullmann (Tenor), Josef Wagner (Bass),
Maulbronn Cantor Choir (Kantorei Maulbronn),
Russian Chamber Philharmonic St. Petersburg
Conductor: Jürgen Budday

A concert recording from the church of the German
UNESCO World Heritage Site Maulbronn Monastery

HD Recording · DDD · c. 81 Minutes

Streaming, Lossless- & High-Definition-Downloads via
Work(s) & Performance

D
uring his lifetime, Louis Spohr, born on April 5th 1784 in Braunschweig (Germany), was named as one of the greatest violinists beside Niccolò Paganini. Unlike many of his contemporaries, whose works are celebrated today, Louis Spohr was already famous during his lifetime and he was considered as one of the great artists of his era, as a musician and conductor and, in fact, as a composer. His rich oeuvre includes more than 200 works, including chamber music, concertos, symphonies, several operas and four oratorios.
"The Last Judgement" was Louis Spohr's second oratorio and one of his most famous compositions these times. A contemporary reviewer discribed the oratorio as "one of the greatest musical creations of the age." "The Last Judgement" is originated in Kassel between 1825 and 1826, where Spohr has appointed as Music Director after a successful artist career. Spohr himself wrote about the successful premiere, which took place in Kassel on Holy Friday 1826 in a darkened choir under a cross, illuminated by 600-glass lamps: "I must say to myself - the effect was extraordinary! Before that I never had those emotion of satisfaction during the performance of one of my larger works!". Although this oratorio isn't well known today, the sucess of "The Last Judgement" is documented with numerous other performances during the first half of the 19th century. The libretto for "The Last Judgement" is written by the dramatist and music writer Johann Friedrich Rochlitz (1769-1842). The oratorio describes in two parts the scares of the Apocalypse and of the Last Judgement ("Babylon the great is fallen"), based on the Book of Revelation from the New Testament. At the end of the fight between God and the Devil a new heaven and a new earth replace the old. A new "city" is born: the New Jerusalem.
Performer(s)
Miriam Meyer (Soprano)
The soprano Miriam Meyer was born in the German city of Osterode am Harz. After graduating from high-school, she started medical school in Hanover. In addition to that, she soon started studying vocal arts at the Hanover University of Music and Drama with W. Reimer. In 1997, she transferred to the University of Music in Lübeck as a student of Ulf Bästlein, where she received her diploma with distinction in spring 2002. She intensified her training by attending master classes by Renata Scotto, Irwin Gage, Charles Spencer, Kai Wessel, and Esther de Bros. Beside performances on the radio and on television Miriam Meyer gave numerous concerts, Lied recitals and oratorio performances throughout Germany and other European countries. At the Handel Festival in Halle in 2003, for example, Miriam Meyer's performance of the soprano solo in the oratorio "Messiah" with the Choeur des Musiciens du Louvre and the Lautten Compagney Berlin, conducted by Wolfgang Katschner, was a great success. At the Herrenchiemsee Festival of 2004, she made her debut as Susanna in "The Marriage of Figaro", conducted by Enoch zu Guttenberg. From 2002 to 2008, Miriam Meyer worked as a soloist at the Komische Oper Berlin with guest performances in Hong Kong, for example. In 2006 the soprano started cooperating very closely with Ton Koopman and the Amsterdam Baroque Orchestra.
Ursula Eittinger (Mezzo-Soprano)
The German mezzo-soprano Ursula Eittinger studied singing at the Detmold Music Academy, where she was awarded a concert and opera diploma with distinction in 1990. While she was still a student she took part in various master courses, for example with Sena Jurinac, Kurt Widmer and Charles Brett. Ursula Eittinger has worked with ensembles like the WDR Radio Orchestra, the Hannover and Hamburg Radio Orchestras, the Bach-Collegium Stuttgart under Helmuth Rilling and the Munich Bach Soloists. Concert tours have taken her to the Royal Albert Hall in London, to Barcelona (Palau de la Musica) and many festivals such as the BBC Prom Concerts, the Schleswig-Holstein Festival and the Cracow International Festival for Old Music. The variety, which characterises he repertoire, is shown clearly in her television, radio and CD recordings (for example Schumann duets with Scot Weir), also in a duet programme with Barbara Schlick.
Marcus Ullmann (Tenor)
Marcus Ullmann studied at the Hochschule für Musik in Dresden with Hartmut Zabel and Margaret Trappe-Wiel, later with Dietrich Fischer-Dieskau in Berlin and Marga Schiml in Karlsruhe. He began his career at Opera Houses including the State Operas in Dresden and Mainz, the Teatro La Fenice, the Opera House in Rome, Teatro Florence and the Los Angeles Opera, where he appeared successfully in most of the major Mozart-roles, in addition to staged versions of the "St John's Passion" and the "B-Minor Mass" by Bach, as well as "The Creation" and "The Seasons" by Haydn. Conductors with whom he has worked include Marcus Creed, Enoch zu Guttenberg, Hans-Christoph Rademann, Helmuth Rilling, Peter Schreier and Frieder Bernius. Beside his performances with choirs like the Dresden Kreuzchor and the Thomanerchor Leipzig and performances at many music festivals, Marcus Ullmann has given recitals in Tokyo, at the Wigmore Hall London, the Concertgebouw Amsterdam and the Opera House Cairo.
Josef Wagner (Bass)
The musical education of the Austrian Bass-Baritone Josef Wagner, born in 1975, began with a membership in a boys' choir and with violin and piano lessons. Later he studied singing at the University of Music and Dramatic Arts in Vienna, where he was inspired by Paul Esswood, Walter Berry and Christa Ludwig. His current teacher is the tenor Wicus Slabbert. After the debut with "Don Alfonso" ("Così fan tutte" and Dulcamara ("Elisir d'amore") Josef Wagner became a member of the Vienna Volksoper in 2002. His repertoire includes "Figaro" in "Le nozze di Figaro", "Don Alfonso" and "Guglielmo" in "Cosi fan tutte", "Masetto" in "Don Giovanni", "Papageno" in "Die Zauberflöte" (Mozart), "Dulcamara" in "L'elisir d'amore" (Donizetti), "Publio" in "La clemenza di Tito" (Mozart), "Alidoro" in "La Cenerentola" (Rossini), "Colline" in "La boheme" (Puccini), "Philebos" in "Der König Kandaules" (Zemlinsky), "Fra Melitone" in "La forza del destino" (Verdi) and other roles. He performs at the Salzburg Festival, the Vienna Volksoper and the opera houses of Bern, Geneva, Ireland and Japan. At the Israeli Opera he sang Lord Sidney in Il viaggio a Reims (Rossini). In addition to his career as an opera singer Josef Wagner also performes as a concert singer. Thus he gave concerts under the conductors Ton Koopman, Dennis Russell Davies and Nikolaus Harnoncourt in Vienna's Musikverein and the Vienna Konzerthaus.
Kantorei Maulbronn (Maulbronn Cantor Choir)
The Maulbronn Cantor Choir is the large oratorio choir of the monastery in Maulbronn. The choir was founded in 1948 as a federation of the Evangelic Church Choir Maulbronn and the choir of the Evangelic Seminar Maulbronn. In this tradition the choir is formed today with ambitious choral singers from the region and students and former students of the Seminar Maulbronn (gymnasium with boarding school). Over those many years of its existence the choir has performed the complete repertoire of popular oratorios and worked together with orchestras like the "Southwest-Radiosymphony-Orchestra Baden-Baden and Freiburg", the "Central German Chamber Orchestra", the "Southwest German Chamber Orchestra Pforzheim" or the "Baden Philharmonic Orchestra". Soloists of these performances were artists like Barbara Schlick, Maya Boog, Sandra Moon, Sophie Daneman, Marga Schiml, Elisabeth von Magnus, Hans Peter Blochwitz, Aldo Baldin, Marc Clear, Markus Brutscher, Peter Lika, Gotthold Schwarz and Ludwig Güttler. The German television station ZDF broadcasted a portrait about the Choir, and the choir has participated in live radio recordings for the SDR, SWR, Deutsche Welle and Deutschlandfunk.
Russian Chamber Philharmonic St. Petersburg (Russische Kammerphilharmonie St. Petersburg)
The orchestra was founded in 1990 by graduates of the St. Petersburg Rimsky-Korsakoff Conservatory. The tours with Mstislav Rostropovitch, Igor Oistrakh, Mikis Theodorakis, Nina Corti and Giora Feidman as well as with opera and ballet soloists of the Moscow Bolschoi Theatre and the St. Petersburg Mariinski Opera attracted international interest. Performances in the cities of Paris, Rome, Madrid, Amsterdam, London, Frankfurt, Munich and Leipzig as well as at various festivals testify of the orchestra's exceptional status.
Jürgen Budday (Conductor)
Jürgen Budday started teaching at the Evangelical Seminar in Maulbronn in 1979. This also involved his taking over as artistic director of the Maulbronn Monastery Concerts and the cantor choir. He studied church music and musicology at the Academy of Music in Stuttgart from 1967 to 1974. In 1992, he was named Director of Studies, in 1995 came the appointment as Director of Church Music and in 1998 he was awarded the "Bundesverdienstkreuz" (German Cross of Merit) as well as the Bruno-Frey Prize from the State Academy in Ochsenhausen for his work in music education. In 1983 Jürgen Budday founded the Maulbronn Chamber Choir ("Maulbronner Kammerchor"), with whom he won numerous national and international awards. At the Prague International Choir Festival, for example, Jürgen Budday received an award as best director. Since 2002 he has also held the chair of the Choral Committee with the German Music Council. Jürgen Budday has started a cycle of Handel oratorios that is planned to span several years, which involves working with soloists like Emma Kirkby, Miriam Allan, Michael Chance, Nancy Argenta and Mark Le Brocq (to name but a few). The live recordings of these performances, that have received the highest praise from reviewers, has won him international recognition. Till these days 10 oratorios by G.F.Handel are documented on discs. "No conductor and no choir have so consistently recorded so many Handel oratorios as Jürgen Budday and his Maulbronn Chamber Choir" (Dr. Karl Georg Berg, Handel Memoranda Halle 2008).
Released, so far, are recordings of the oratorios "Paulus" und "Elijah " by Mendelssohn, Puccini's "Messa di gloria", the "Missa Solemnis" by Charles Gounod, Rossini's "Stabat Mater" and the oratorio "Moses" by Max Bruch., which are performed by the Maulbronn Cantor Choir under the direction of Jürgen Budday.
Series & Edition
P
ublishing Authentic Classical Concerts entails for us capturing and recording outstanding performances and concerts for posterity. The performers, audience, opus and room enter into an intimate dialogue that in its form and expression, its atmosphere, is unique and unrepeatable. It is our aim, the philosophy of our house, to enable the listener to acutely experience every facet of this symbiosis, the intensity of the performance, so we record the concerts in direct 2-Track Stereo digital HD. The results are unparalleled interpretations of musical and literary works, simply - audiophile snapshots of permanent value. Flourishing culture, enthralling the audience and last but not least also you the listener, are the values we endeavor to document in our editions and series.
The concerts at the UNESCO World Heritage Maulbronn Monastery supply the ideal conditions for our aspirations. It is, above all, the atmosphere of the romantic, candle-lit arches, the magic of the monastery in its unadulterated sublime presence and tranquillity that impresses itself upon the performers and audience of these concerts. Renowned soloists and ensembles from the international arena repeatedly welcome the opportunity to appear here - enjoying the unparalleled acoustic and architectural beauty of this World Heritage Site, providing exquisite performances of secular and sacred music, documented by us in our Maulbronn Monastery Edition.
Andreas Otto Grimminger & Josef-Stefan Kindler, K&K Verlagsanstalt
Lyrics
Erster Teil
Nr. 1: Ouvertüre (Andante grave - Allegro)
Nr. 2: Soli (SB) e Coro
Preis und Ehre ihm, der da ist, der da war und der da kommt! (Offb.1,4)
Preis und Ehre ihm, dem Erstling der Erstandenen, dem Beherrscher der Könige der Erde. Ihm, der uns geliebet und durch sein Blut gereinigt hat. (1,5)
Preis, Ehre und Ruhm! (5,13)
Siehe er kommt in den Wolken, und ihn wird sehen jegliches Auge, und wehklagen werden die Geschlechter der Erde. Fürchte dich nicht: Ich bin´s, der Erste und Letzte und der Lebendige. Ich war tot, und siehe, ich bin lebendig in alle Ewigkeit und habe die Schlüssel der Hölle des Todes. (1,17-18)
Preis und Ehre ihm...
Ich weiß nun dein Tun: Du hast Böses nicht ertragen und geduldet um meines Namens willen. Aber deine erste Liebe hast du verlassen und bist gefallen von deiner Höhe. So ändre deinen Sinn und tu die ersten Werke! (2,2-5)
Sei getreu bis in den Tod, so will ich Dir die Krone des Lebens geben. (2,10)
Preis und Ehre ihm...
Nr. 3: Recitativo (TB)
Steige herauf, ich will dir zeigen, was geschehen soll! Und siehe, ein Thron stand im Himmel, und auf dem Thron ruht einer!
Und ein Regenbogen war um den Thron, und im Kreis auf Thronen vierundzwanzig Älteste, mit weißen Kleidern angetan, auf ihren Häuptern goldne Kronen. Und von dem Throne gingen aus Blitze und Donner, (4,1-5)
und Stimmen riefen Tag und Nacht: (4,8)
Nr. 4: Solo (T) e Coro
Heilig, heilig, heilig ist Gott der Herr, der Allmächtige, der da war und der da ist und der da kommt! (4,8)
Nr. 5: Recitativo (ST)
Und siehe. ein Lamm, das war verwundet. Weine nicht! Siehe, es hat überwunden der Löwe, der da ist vom Geschlecht Juda! (5,5)
Und die Ältesten fielen nieder vor dem Lamm und hatten Harfen und goldne Schalen voll Rauchwerks und sangen ein neues Lied: (5,8-9)
Nr. 6: Solo (S) e Coro
Das Lamm, das erwürget ist, ist würdig zu nehmen Kraft und Reichtum und Weisheit und Hoheit und Preis und Ehre! (5,12)
Nr. 7: Recitativo (T) e Coro
Und alle Kreatur, die im Himmel ist und auf Erden und unter der Erde und im Meer, rief aus und sprach: Betet an! Lob und Preis und Gewalt ihm, der auf dem Stuhle thront und dem erwürgten Lamm! (5,13)
Nr. 8: Recitativo (AT)
Und siehe, eine große Schar aus allen Heiden und Völkern und Sprachen traten zu dem Thron und dem Lamme. Sie waren angetan mit weißen Kleidern und trugen Palmen in den Händen. Sie fielen nieder auf ihr Angesicht und beteten an. (7,9-11)
Diese sind gekommen aus großer Trübsal und haben ihre Kleider weiß gemacht und hell im Blute des Lammes. Darum sind sie vor Gottes Thron und dienen ihm Tag und Nacht. (7,14-15)
Und das Lamm wird sie leiten zu Quellen lebendigen Wassers, und Gott wird trocknen alle Tränen von ihren Augen. (7,17)
Nr. 9: Soli (SATB) e Coro
Heil, dem Erbarmer Heil!
Er selbst wird trocknen alle Tränen von ihren Augen. Kein Leid ist mehr noch Schmerz noch Klage. (21,4)
Der Herr ist unser Gott, und wir sind sein. Ja, wir sind sein. (21,7)
Zweiter Teil
Nr. 10: Sinfonia (Allegro - Andante grave - Allegro)
Nr. 11: Recitativo (B)
So spricht der Herr: Das Ende kommt; von allen Winden der Erde kommt nun das Ende! Es kommt auch über dich. Ich will dich richten, wie du verdienet hast, und will dir geben, was dir gebühret. Mein Antlitz übersieht dich nicht; mein Auge dringt in dein geheimstes Innre! Von draußen bricht´s daher, von fernen Grenzen naht es sich. Der Gesang der Schnitter verstummt im Feld der Ernte und die Stimme der Hirten auf den Bergen. Klage tönt vom Tal herauf und aus den Klüften Wehgeschrei. Er kommt, der Tag der Schrecken kommt, sein Morgenrot bricht an. Es hat sich aufgemacht der Tyrann, die Geißel Gottes für die Völker. Auf den Gassen geht das Schwert, in den Häusern wohnt Hungersnot. Sie werfen ihr Silber heraus und achten ihr Gold als Spreu, denn es errettet sie nicht am Tag des Herrn. Ihre Seelen werden nicht davon gesättigt, für ihre Glieder macht man Ketten. Die Könige stehen gebeugt, die Fürsten klagen in Trauer, des Volkes Arme sinken matt herab, und seine Tränen fallen in Staub. (Hes.7,2-27)
Nr. 12: Duetto (ST)
Sei mir nicht schrecklich in der Not, Herr meine Zuversicht!
Ich bin allein, bleibst du mir nicht.
Verlassen bin ich, stehst du nicht zu mir!
Der Freund vergisst, der Bruder weicht, ich schau auf dich, o Herr, auf dich, mein einzig Teil!
Nr. 13: Coro
So ihr mich von ganzem Herzen suchet, will ich mich finden lassen, spricht der Herr. Und so ihr euch redlich zu mir kehret, will ich euch sammeln von allen Örtern der Erde. (Jer.29,13-14)
Ich will euer Gott sein, und ihr sollt mein Volk sein. So spricht der Herr. (Hes.37,27)
Nr. 14: Recitativo (T)
Die Stunde des Gerichts, sie ist gekommen. Anbetet den, der gemacht hat Himmel und Erde. (Offb.14,7)
Nr. 15: Coro
Gefallen ist Babylon, die Große. (14,8)
Sie suchen den Tod und finden ihn nicht,
sie ringen nach ihm, er fliehet sie. (9,6)
Die Stunde der Ernte ist da. Reif ist der Erde Saat. (14,15)
Das Grab gibt seine Toten,
das Meer gibt seine Toten (20,13),
das Siegel wird gebrochen (8,1), das Buch wird aufgetan (20,12).
Sie zagen, sie beben. Es ist geschehen. (21,5)
Nr. 16: Soli (SATB) e Coro
Selig sind die Toten, die in dem Herren sterben, von nun an in Ewigkeit. Sie ruhen von ihrer Arbeit, und ihre Werke folgen ihnen nach. (14,13)
Nr. 17: Recitativo (SA)
Sieh, einen neuen Himmel und eine neue Erde (21,1), von Gott bereitet und schön geschmückt als eine Braut. (21,2)
Sieh, eine Hütte Gottes bei den Menschen, er wird bei ihnen wohnen, sie werden sein Volk sein! (21,3)
Nicht Sonne mehr noch Mond: Er ist ihr Licht, und seine Herrlichkeit umleuchtet sie. (21,23)
Kein Tempel steht in Gottes Stadt. Er ist ihr Tempel und das Lamm. (21,22)
Nr. 18: Recitativo (T) und Quartett
Und siehe, ich komme bald und mein Lohn mit mir, zu geben jeglichem nach seinen Werken. (22,12)
Ja komm, Herr Jesu. (22,30)
Nr. 19: Soli (SATB) e Coro
Groß und wunderbarlich sind deine Werke, Herr, allmächtiger Gott. Gerecht und wahrhaftig sind deine Wege, du König der Heiligen. Wer sollte dich nicht fürchten, Herr, nicht deinen Namen preisen? Du allein bist heilig. Und alle Völker der Erde werden kommen und anbeten vor dir. (15,3-4)
Halleluja! Sein ist das Reich und die Kraft und die Herrlichkeit von Ewigkeit zu Ewigkeit.
Amen. Halleluja. Amen
Part the First
No. 1: Overture (Andante grave - Allegro)
No. 2: Soli (SB) and Chorus
Praise and glory to Him, which is, which was, and which is to come! (Rev.1,4)
Praise and glory be to him, the first begotten of the dead, and the prince of the kings of the earth. Unto him that loved us, and washed us from our sins in his own blood. (1,5)
Blessing to him, and honour and glory! (5,13)
Behold, he cometh with clouds and every eye shall see him, and they also which pierced him and all kindreds of the earth shall wail because of him. Fear not: I am the first and the last. I am he that liveth, and was dead, and behold, I am alive for evermore, Amen, and have the keys of hell and of death. (1,17-18)
Praise and glory be to him...
Thou canst not bear them which are evil: and for my name's sake hast laboured, and hast not fainted. Yet thou hast left thy first love. Remember therefore from whence thou art fallen and repent, and do the first works! (2,2-5)
Be thou faithful unto death, and I will give thee a crown of life. (2,10)
Praise and glory be to him...
No. 3: Recitative (TB)
Come up hither, and I will shew thee things which must be hereafter and, behold, a throne was set in heaven!
And one sat on the throne there was a rainbow round about the throne, and round about the throne were four and twenty elders sitting clothed in white raiment. And they had on their heads crowns of gold. And out of the throne proceeded lightnings and thunderings, (4,1-5) and voices cried out day and night: (4,8)
No. 4: Solo (T) and Chorus
Holy, holy, holy, Lord, God Almighty,
which was, and is, and is to come! (4,8)
No. 5: Recitative (ST)
And behold, there stood a Lamb as it had been slain, weep not: behold, the lion of the tribe of Judah, the root of David, hath prevailed. (5,5)
And the elders fell down before the Lamb, having every one of them harps, and golden vials full of odours, and they sung a new song: (5,8-9)
No. 6: Solo (S) and Chorus
Worthy is the Lamb that was slain to receive power, and riches, and wisdom, and strength, and honour, and glory, and blessing! (5,12)
No. 7: Recitative (T) and Chorus
And every creature which is in heaven, and on the earth, and under the earth, and such as are in the sea, heard I saying: Blessing! Honour and glory and power, be unto him that sitteth upon the throne, and unto the Lamb for ever and even! (5,13)
No. 8: Recitative (AT)
And, behold, a great multitude, which no man could number, of all nations, and kindreds, and people, and tongues, stood before the throne, and before the Lamb, clothed with white robes, and palms in their hands. And fell down on their faces and prayed to Him. (7,9-11)
These are they which came out of great tribulation, and have washed their robes, and made them white in the blood of the Lamb. Therefore are they before the throne of God. And serve him day and night in his temple. (7,14-15)
For the Lamb which is in the midst of the throne shall lead them Unto living fountains of waters: And God shall wipe away all tears from their eyes. (7,17)
No. 9: Soli (SATB) and Chorus
Hail! To the one to have mercy on us!
And God shall wipe away all tears from their eyes. And there shall be no more death, neither sorrow, nor crying, neither shall there be any more pain. (21,4)
The Lord is our God, and we are his. Yes, we are his. (21,7)
Part the Second
No. 10: Sinfonia (Allegro - Andante grave - Allegro)
No. 11: Recitative (B)
Thus saith the Lord: The end is come upon the four corners of the land! Now is the end come upon thee, and I will send mine anger upon thee, and will judge thee according to thy ways, and will recompense upon thee all thine abominations and mine eye shall not spare thee, neither will I have pity! From afar the sword is without, from foreign borders approaching, the reapers' song falls silent in the field of harvest, and silent is the voice of shepherds in the mountains. Laments arise from the valley, and from the chasms wailing. It has come, the day of terror has come, is morning is rising red! On his way we see the tyrant, the scourge of God for the peoples, in the streets the sword is without, and the pestilence and the famine within they shall cast their silver in the streets, and their gold shall be removed. Their silver and their gold shall not be able to deliver them in the day of the wrath of the Lord. They shall not satisfy their souls, chains are prepared for their limbs. He king shall mourn, and the prince shall be clothed with desolation, and the hands of the people of the land shall be troubled, and their tears shall fall upon the dust. (Eze.7,2-27)
No. 12: Duet (ST)
Do not be my terror in this misery, my Lord, my confidence!
I am alone unless you are with me.
I am left destitute if you are not on my side!
The friend forgets, my brother leaves me. I behold ye, oh Lord, my only foundation!
No. 13: Chorus
And ye shall seek me, and find me, when ye shall search for me with all your heart, thus and I will be found of you, saith the Lord. And I will gather you from all the nations. (Jer.29,13-14)
I will be your God, and you shall be my people. Thus saith the Lord. (Hes.37,27)
No. 14: Recitative (T)
The hour of his judgement is come. And worship him that made heaven, and earth. (Rev.14,7)
No. 15: Chorus
Babylon the great is fallen. (14,8)
They seek death, and shall not find it; and shall desire to die, and death shall flee from them. (9,6)
For the time is come for thee to reap. For the harvest of the earth is ripe. (14,15)
And the graves gave up he dead which were in them and the sea gave up the dead which were in it. (20,13)
The seal was opened (8,1), the book is opened. (20,12)
They hesitate, the shiver. It is done. (21,5)
No. 16: Soli (SATB) and Chorus
Blessed are the dead which die in the Lord from henceforth, that they may rest from their labours, and their works do follow them. (14,13)
No. 17: Recitative (SA)
Behold, And I saw a new heaven and a new earth (21,3), coming down from God out of heaven, prepared as a bride adorned for her husband. (21,2)
And he will dwell with them,
and they shall be his people! (21,3)
And the city had no need of the sun neither of the moon, to shine in it! For the glory of God did lighten it. (21,3)
And I saw no temple therein. For the Lord God Almighty and the Lamb are the temple of it. (21,22)
No. 18: Recitative (T) and Quartet
And, behold, I come quickly, and my reward is with me, to give every man according as his work shall be. (22,12)
Even so, come, Lord Jesus. (22,20)
No. 19: Soli (SATB) and Chorus
Great and marvellous are thy works, Lord God Almighty, just and true are thy ways, thou King of saints. Who shall not fear thee, O Lord, and glorify thy name? For thou only art holy. For all nations shall come and worship before thee. (15,3-4)
Alleluia! For thine is the kingdom and the power, and the glory forever and ever.
Amen. Alleluia. Amen.

5 stars out of 5 stars

Spohr''s second oratorio concerns both:
the Apocalypse and the Last Judgement
This was Spohr's second oratorio and was written in Kassel between 1825 and 1826. The libretto, in two parts, was by Johann Friedrich Rochlitz (1769-1842) and concerns both the Apocalypse and the Last Judgement. The overture is a powerful utterance, finely put together, and orchestrated adeptly. The choral entries are often arresting, and the accompanied recitatives show awareness of oratorio antecedents but are sufficiently flexible to convince on their own terms. At its best the work impresses through a felicitous sense of word-setting and layering; the choral responses are indeed sensitively shaped. The fourth movement, with a tenor solo and chorus, calls for a repeated 'Heilig' and the chorus's soft, reverential repetition vests the music with great reflectiveness and elegiac quality. Then too Spohr doesn't stint the opportunities for some good old-fashioned fugal development. Its employment halts the narrative somewhat but is certainly incisive; that in the seventh section is very definitely reminiscent of Handel. Spohr shows in the Sinfonia introduction to the second part just how well he wrote for orchestral forces and in the Babylonian chorus (No.15) demonstrates a sure instinct for the dramatic crest of a movement. In the concluding fugal Hallelujah section he reprises the kind of Handelian statements he'd earlier established in the first part of the oratorio. There are some Mozartian touches here and there, more stentorian Beethovenian ones too, in addition to the sometimes pervasive Handelian aspect. ...

Qobuz Hi-Res Audio
Awarded by Qobuz with the "Hi-Res Audio" March 2012.

The listener is engrossed in what is going on from first note to last
This enterprising German label has recently served up some wonderfully crafted chamber and choral performances and this discovery by Spohr is no exception. Apparently 'The Last Judgement' (Die letzten Dinge - 1825/6) was an extremely popular oratorio in its heyday but it unfortunately fell by the wayside and is little heard today. Spohr treats the text with reverence and respect and although the music rarely rises above the mundane, the soloists and Budday ensure that the listener is engrossed in what is going on from first note to last. This is a worthwhile revival from the Spohr canon which deserves much wider currency.